Home > Apple Music Tips >Export Apple Music to Spotify
How to Export Apple Music to Spotify
If you're an Apple Music user and feeling tired of being limited to just one music streaming platform, you might be interested in trying out the global sensation, Spotify. However, is there a way to export your Apple Music playlist to Spotify? Luckily for you, transferring your Apple Music playlists to Spotify is easier than you think. In just a few simple steps, you can seamlessly export your Apple Music playlists and enjoy them on Spotify. In this article, we will guide you through the process of transferring Apple Music playlists to Spotify and introduce the problems encountered during the transfer process and their solutions. If you're ready, let's dive in now and unlock a world of endless musical possibilities!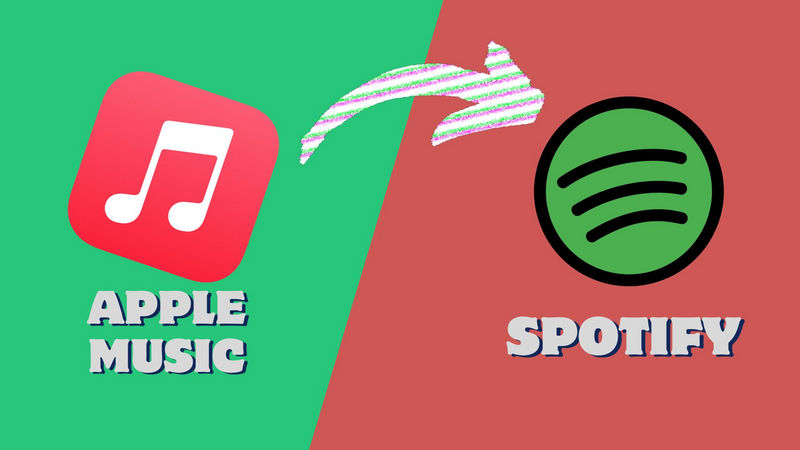 Part 1: How to Export Songs from Apple Music Locally?
To export Apple Music to Spotify, first we need to download Apple Music local. But even if you are an Apple Music subscriber, you cannot successfully complete this step. As of now, Apple Music does not offer an official option to download songs to your local device for offline playback. Apple Music operates as a streaming service that allows you to access its entire music library through an internet connection. However, you can save songs, albums, and playlists for offline listening in the Apple Music app itself. This feature temporarily downloads selected content to your device for offline playback, but these downloads are only accessible in the Apple Music app and cannot be transferred to other devices or local storage. Don't worry, we will use a professional third-party tool to achieve this goal.
Tool Required – NoteCable Apple Music Converter
NoteCable Apple Music Converter is specially designed to record tracks from Apple Music and convert them to common formats for offline playback. Once songs are downloaded to plain format files, you can play songs via any MP3 player, burn them to CD, and move them to your computer or other devices, such as iPad, iPhone, Android phone, or Android tablet.
Here is a step-by-step tutorial on how to download Apple Music songs in your local.
Step 1Install and Run the NoteCable Apple Music Converter and Choose Conversion Mode
Launch the NoteCable Apple Music Converter on your computer. And then you can choose App Mode or Webplayer Mode as your conversion mode.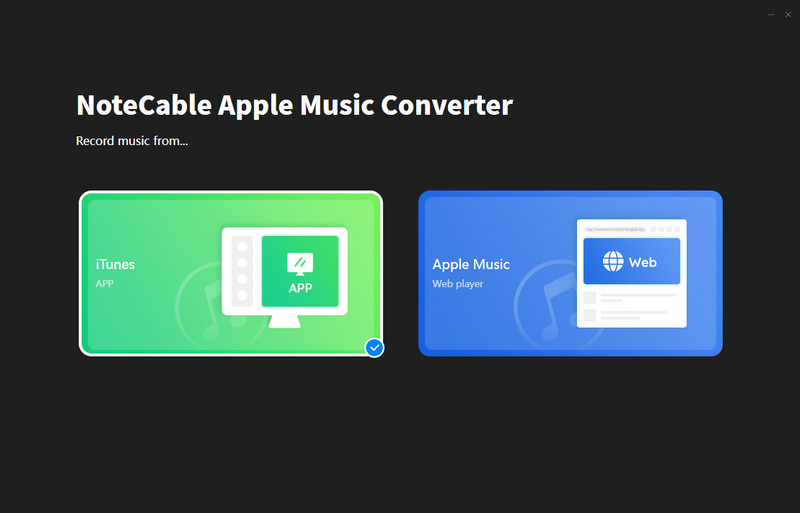 Step 2Sign into Your Apple Music Account
By simply choosing Webplayer Mode, you ought to enter the necessary information to access your Apple Music content.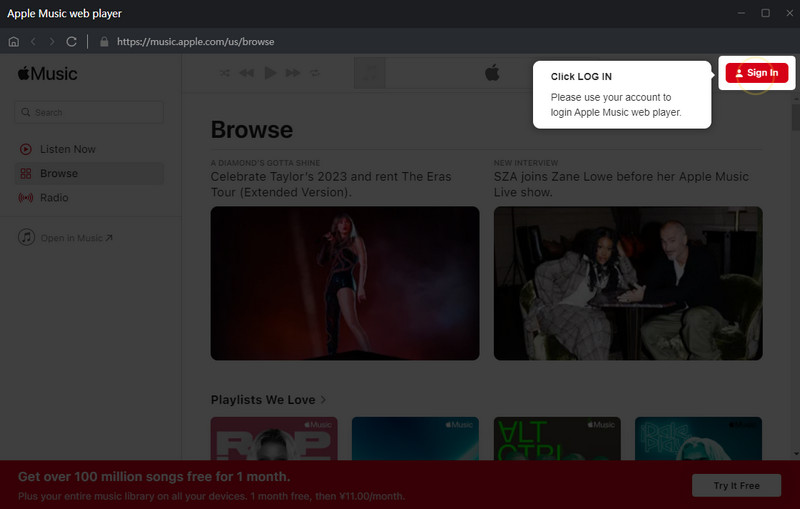 Step 3Customize the Output Settings
Please go to the Settings part on the left panel. There you can set up the output format, output sound quality, output folder, and output file name according to your needs.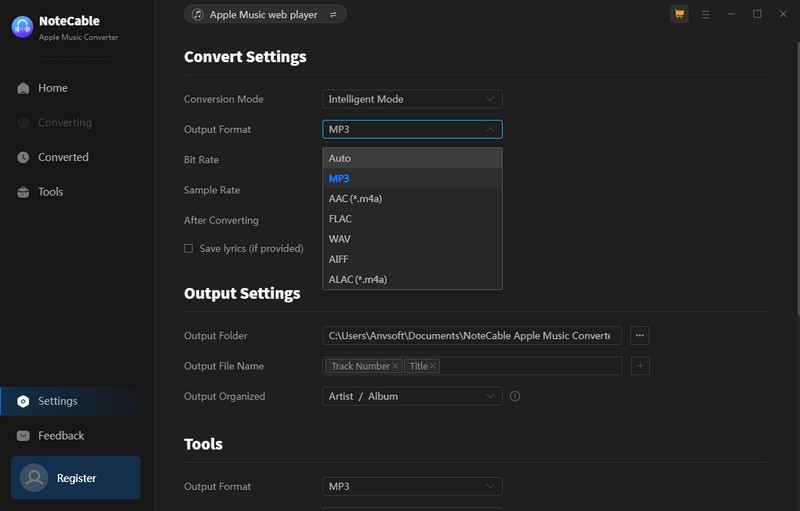 Step 4Choose Apple Music Playlists to Convert
You can find any track or playlist you want to import to Spotify and then open an album or playlist you want to get. Click the Click to add

button suspended on the right side, and the program will list all songs immediately in the Add window. Now all you need is to select songs you want to convert.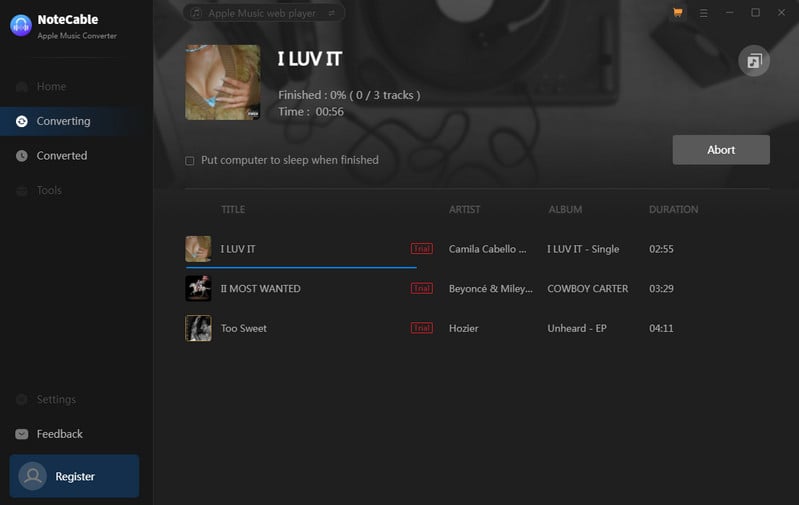 Step 4 Check out the Downloaded Files
After downloading, you can navigate to Converted to view the converted Apple Music tracks. Tap the Folder icon after the songs, you can reach out to the local file.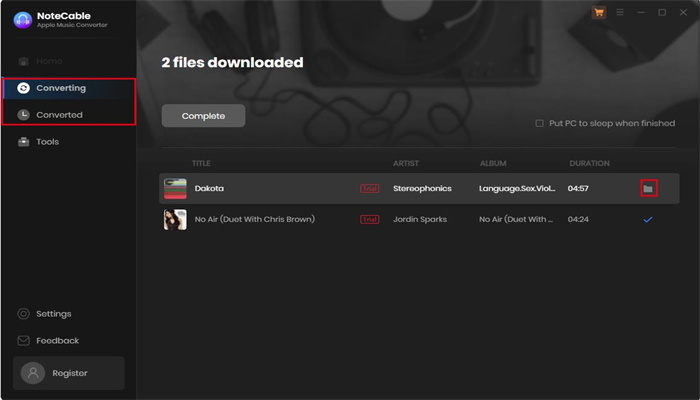 Now, you have saved Apple Music albums, songs and playlists on your Local PC, you can listen to the converted Apple Music songs offline on the computer, and you can also use a USB cable to sync your downloaded songs to any devices you like for offline listening.
Note: The free trial version of the NoteCable Apple Music Converter enables you to convert the first minute of each song. You can unlock the limitation by purchasing the full version.
Part 2: How to Import Apple Music to Spotify?
After completing the local download, the next step is to upload Apple Music to Spotify. The following steps will guide on you how to upload local files to Spotify mobile app using Spotify desktop client, please make sure you have installed Spotify music app on your Mac/PC.
Import Apple Music to Spotify on Desktop:
Step 1: Open your Spotify on your desktop and click Your Account in the top-right corner.
Step 2: Go to theSettings page.
Step 3: Scroll down to "Local Files" and select "Add Source", you can select any folder on your computer that contains audio files, such as iTunes, Downloads, Music, and Local Music.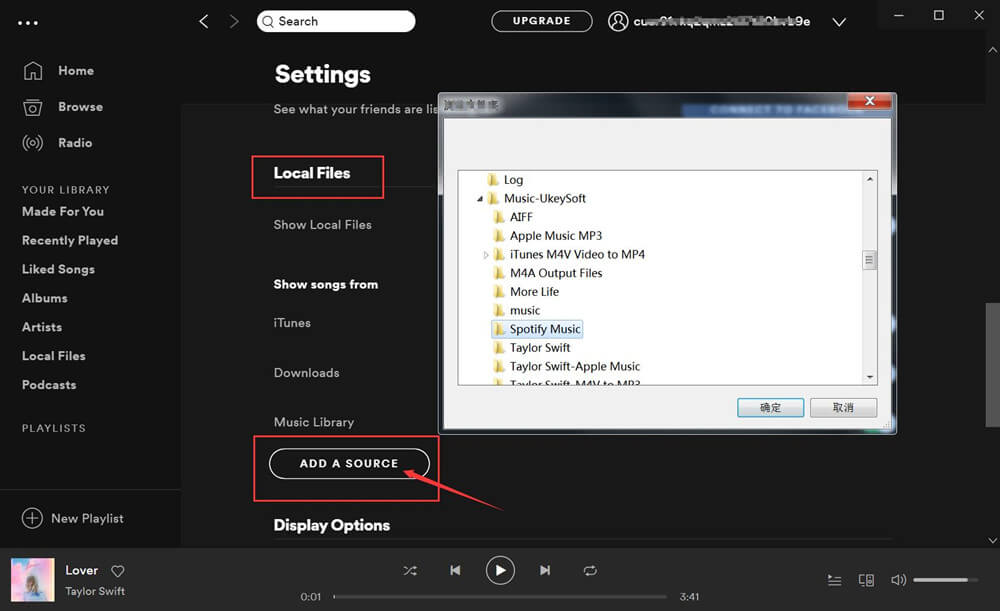 Step 4: Click OK to start adding local songs to the Spotify. Once completed, Spotify will immediately display the path of the added songs.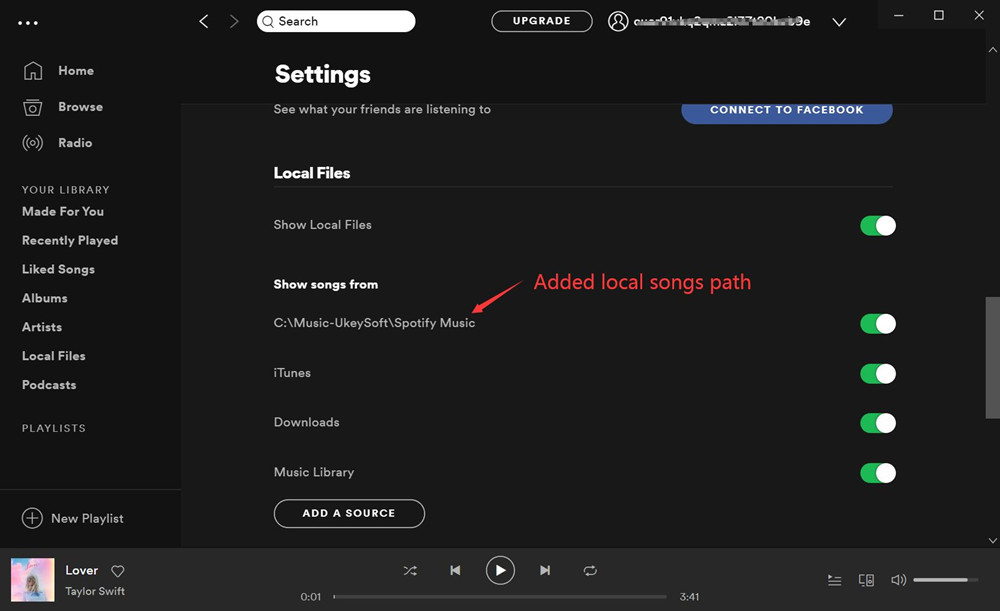 Step 5: Now, you have successfully uploaded local music to Spotify. Navigate to "Local Files" in the left column and you will find all the songs you just added. You can click Play at the top to start playing all local music or select specific music.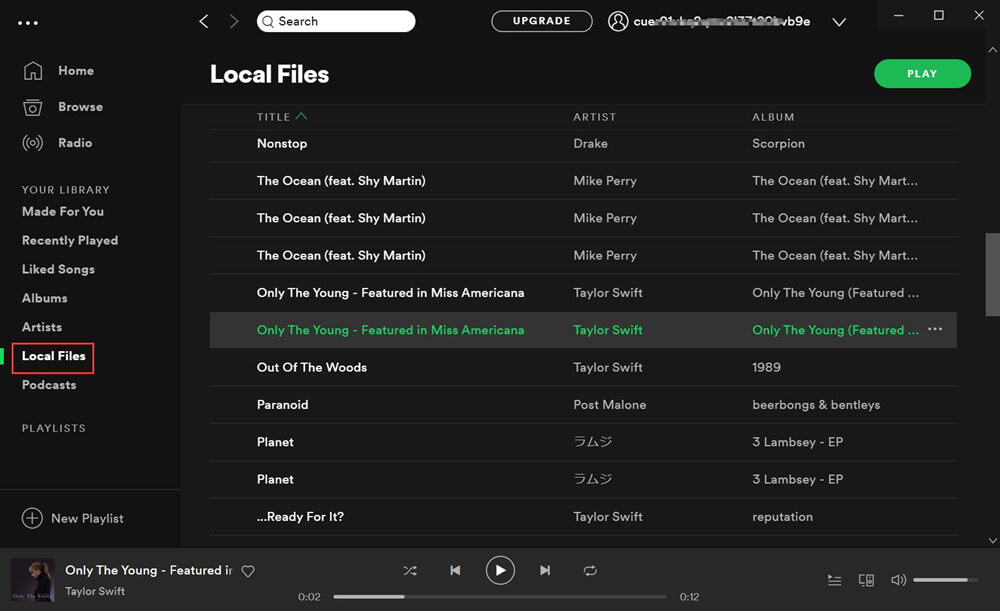 👀Note: Spotify does not currently support iTunes' M4A format.
Import Apple Music to Spotify on Mobile
The prerequisite for uploading Apple Music to a mobile device is to save the Apple Music locally on the mobile device, so please ensure that the steps in Part 1 are fully executed. Users who wish to import local files to the Spotify mobile client need to subscribe to Spotify Premium. If you have already subscribed, please refer to the following steps:
Step 1: Simply launch the app on your device and tap on the gear-shaped icon located in the upper right corner of the Home screen, to access the Settings in the Spotify mobile app.
Step 2: Scroll to the Import Options section and toggle the "Show Local Audio Files" option.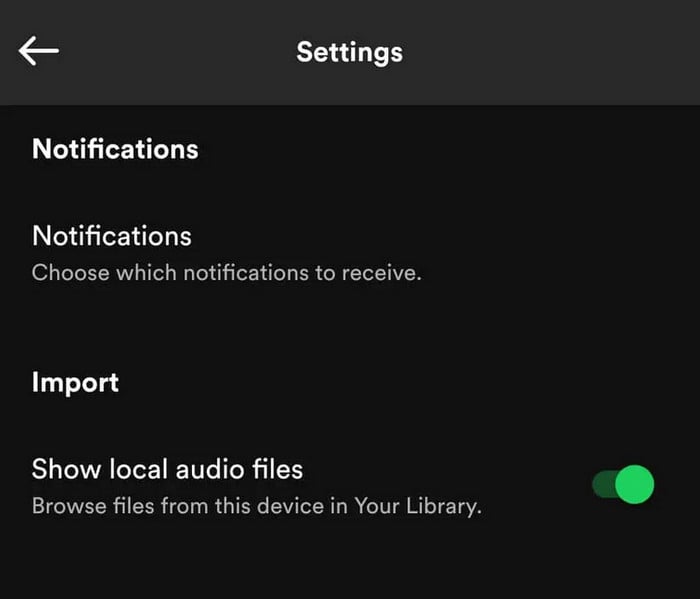 Step 3: Then, open the Local Files folder under the options for Your Library. There you can find all the audio files on your phone.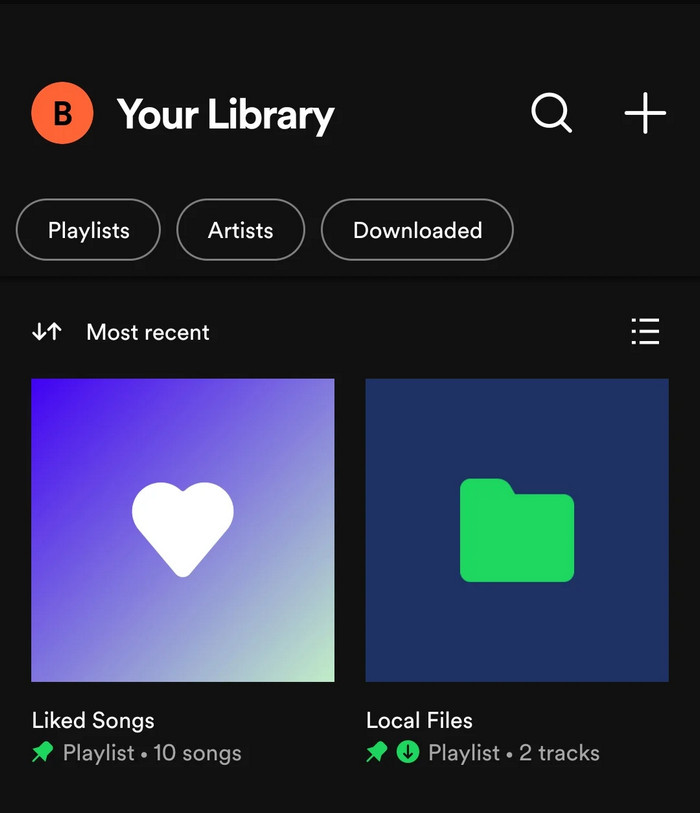 Step 4: Now that you have files stored on your device and have enabled local files support on Spotify, click the Local Files button and then click Play to listen to your locally stored files.
After completing the above steps, you can freely switch from Apple Music to Spotify for playback.
Part 3: Common Reasons Why Spotify Local Files Are Out of Sync
If you followed all the steps correctly but the local files you added are not syncing, it could be due to the following reasons:
1. Not Accurate File format
Some file formats are not compatible with Spotify, so you may not see your local files in your Spotify library if they are in those formats. Spotify only supports certain file formats, and your local files need to be in one of them to appear in your library.
2. Spotify Can't Recognize The File
Your device may have an unusual location where your local files are stored, and this may prevent Spotify from finding them. This is the most likely cause of your local files not syncing on Spotify.
3. Firewall or Antivirus Software Restrictions
Your firewall or antivirus software may stop Spotify from syncing your local files. You need to check that your firewall and antivirus software do not block Spotify.
4. Slow Internet Connection
Your internet connection may be too slow for Spotify to sync your local files properly. You need to make sure your internet connection is fast and reliable.
5. Corrupted Local Files
Spotify may have trouble syncing your local files if they are broken or faulty. You need to make sure your local files are not damaged.
Part 4: The Ways to Fix Local Files Sync Failure on Spotify
If you have identified the cause of your problem from the above list, you can find a suitable solution below. But if you are not sure what is wrong, I suggest you try each solution one by one until you fix your problem. Don't worry, by following these steps you should be able to deal with any challenges that you face.
---
Way 1: Check Internet Connection:
Your internet connection could be the reason why your local files are not showing up in your Spotify app or PC. It could be too slow or not connected to your system. Make sure your internet connection is stable and fast. You can also try turning your router or modem off and on again to see if that helps.
---
Way 2: Clear Spotify Cache
It is important to clear the cache for every app, not just Spotify if you want them to run smoothly without lag. Your Spotify app will become slow and stop playing music and showing local files if the cache is full
---
Way 3: Check Firewall or Antivirus
You need to check that your firewall and antivirus software do not block Spotify. You can also try turning off antivirus temporarily through the firewall software to see if that fixes the problem. Here are the steps you can follow and see the snaps for a step-by-step guide:
1. Open the Windows Security app
2. Search for "Control Panel" in the Window search at the bottom.
3. Open "System and Security"
4. Search for "Windows Defender Firewall" at the second point.
5. Click on "Allow an App Through Windows Firewall"
6. Find Spotify in the pop-up box
7. If Spotify is not listed, click on "Allow another app"
8. Find and choose the Spotify executable file ("Spotify.exe")
9. Click "Add" and ensure both Private and Public network options are checked.
10. Save the changes and close the Windows Security app
---
Way 4: Check File Location
You need to make sure your local files are in a folder that is easy to find and not hidden. You can also try to change the folder where your local files are stored to see if your local is syncing now.
---
Way 5: Check for Corrupted Files
You need to make sure your local files are not broken or faulty if you want to fix the problem with Spotify's local file visibility. You can try to play the files on another media player to see if they work properly.
---
Way 6: Update Spotify
You should also check for updates for your Spotify app after you finish the local file troubleshooting steps above. This will make sure you have the newest features and fixes, which will help your app work better and give you a better experience
---
Way 7: Reinstall Spotify
If you still can't find your local fly on Spotify after trying all the other solutions. You may want to try uninstalling and reinstalling Spotify. This will clear all settings and configurations and may fix the problem.
---
Conclusion
In short, exporting Apple Music to Spotify is not difficult as long as you have the right tools and methods--NoteCable Apple Music Converter. In this article, we show you the specific method to export Apple Music to the local computer and import Spotify on the computer and mobile phone. We also cover the causes and solutions for out-of-sync issues during import. We hope this article was helpful to you. If you still can't find a solution to your problem in this article, you'd better contact AppleMusic or Spotify customer service for an official and effective solution. See you in the next article!