Home > Apple Music Tips > Apple Music vs Amazon Music
Apple Music VS Amazon Music: Which is Better?
Are you trying to decide if Apple Music or Amazon Music is the right streaming service for you? Whether it's about choosing the best value, finding your favorite music quickly and easily, or streaming in high quality with seamless transitions from one device to another - this post will help guide you through all your options. We'll break down everything from pricing plans & interface design, to music library variety & streaming quality. Plus get extra tips on how to download Apple Music as MP3 files! Ready? Let's begin our in-depth comparison of Apple Music vs. Amazon Music so that you can finally make a decision and enjoy your tunes today.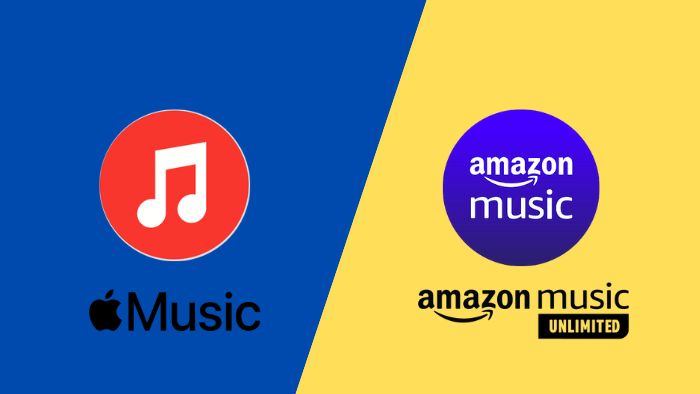 Apple Music vs. Amazon Music: Pricing & Plans
Apple Music has long offered subscription packages for individual users, students, and households with up to six people. Individual plans cost $10.99, student plans cost $5.99, and family plans cost $16.99, respectively. Giving a monthly fee for unlimited access to music is preferable to paying for the individual albums that are available on iTunes, and it is a reasonable price in the world of streaming services. Additionally, Apple offers a three-month free trial during which you can use its streaming service without having to pay a dime. If you are a new user with eligible Apple Music devices, you can get a six-month Apple Music free trial.
On the other hand, Amazon Music offers four different types of membership options, including Amazon Music Free (ad-supported), Prime Music, and Amazon Music Unlimited. Amazon also revealed that it would stop charging extra for Amazon Music HD, so you will now have access to lossless music that before cost $16.99 per month.
The following comparison table between Apple Music and Amazon Music Unlimited illustrates the price differences between the two services.
| | | |
| --- | --- | --- |
| Music Streaming Platform | Apple Music | Amazon Music |
| Free trial | 3 months, new users for 6 months | 3 months |
| Starting Price | $10.99 per month | Free |
| Price for pro version | $10.99 per month | Free (Prime members only); $9.99 per |
| Student Price | $5.99 per month | $5.99 per month |
| Family Package | $16.99 per month, 6 accounts | $16.99 per month, 6 accounts |
| Annual Plan | $109 per year | $99 per year (Prime members only) |
Apple Music vs. Amazon Music: Interface Design
The interface of Apple Music shows clearness and simple features. You can easily find out the functions you need on its interface, such as Library, For You, Browser and Radio. Library lists your playlists and your liked songs. For You shows your specific similar music tastes of your current playing playlists, albums, and so on. Browser allows you to search for your wanted songs. Radio provides different kinds of radio channels for you.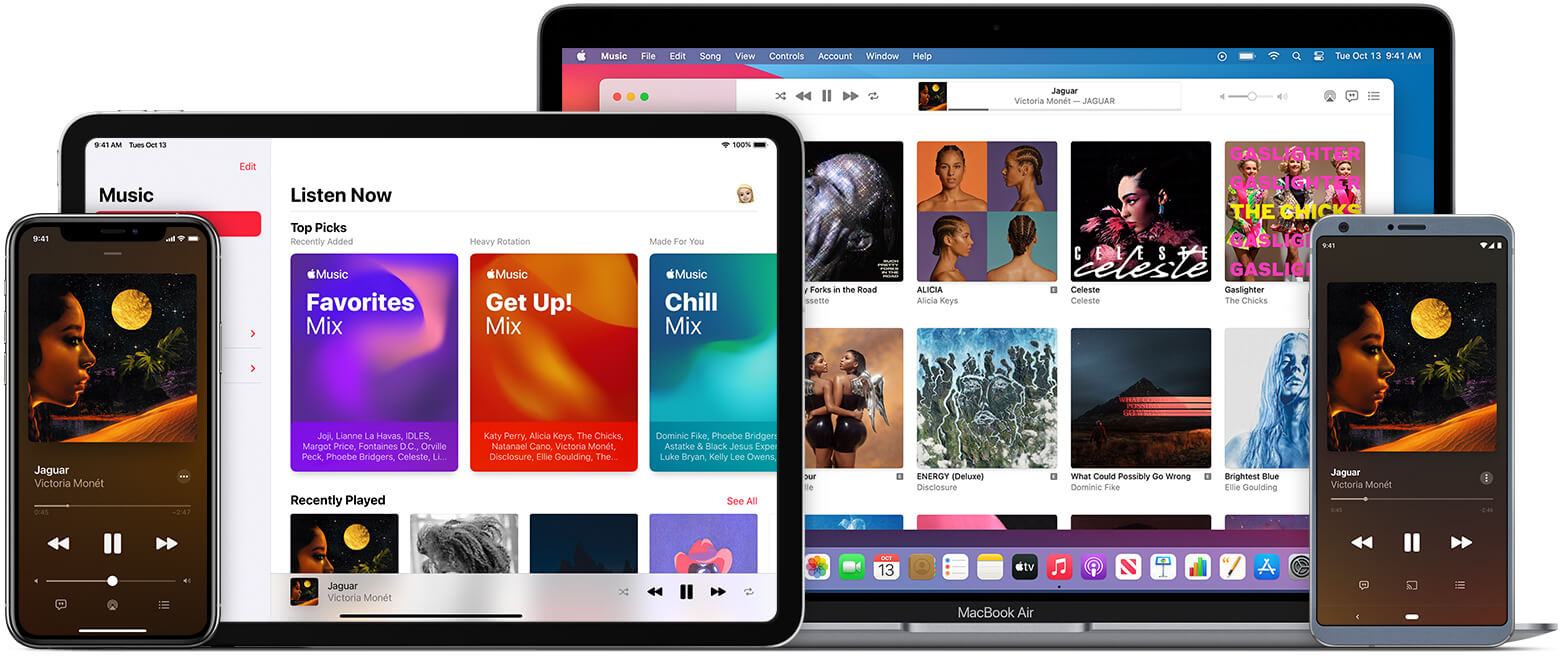 Amazon Music, on the other hand, takes a little further to discover your preferences. The artists and bands from your playback history are pre-populated on the "My Soundtrack" station home page by default, plus seemingly random additions.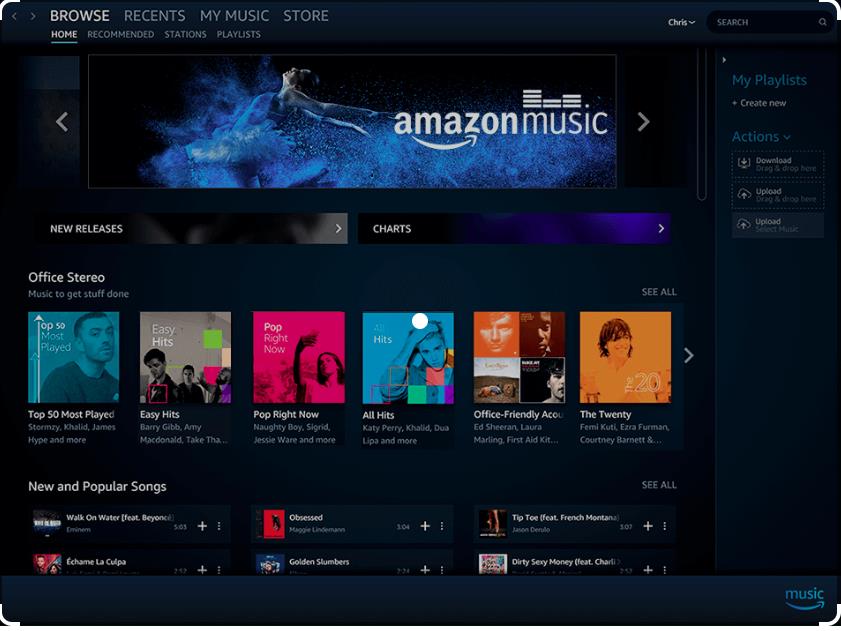 Although the Amazon Music interface appears more attractive at first glance, I prefer Apple Music because the lily-white background helps the contents stand out and make it simple for me to find what I'm looking for, particularly the lovely interface for particular artists and albums.
Apple Music vs. Amazon Music: Music Library
More than 100 million songs are available on Amazon Music, but purchasing Amazon Music Unlimited enables you to enjoy all of them without using the shuffle feature.
Along with its own podcast library, Apple also offers ad-free access to over 100 million songs and 30,000 playlists. You won't likely find the same tracks no matter which platform you choose because platform-exclusive releases are mostly a thing of the past.
Apple Music vs. Amazon Music: Music Variety
While you sign up for the membership, Apple Music will initially question you about your preferences. Then, it will compile your favorites and identify the options that best meet your needs. You may see how accurate Apple Music is at categorizing by using it. They can locate the best music for you worldwide that properly matches your mood. The only issue with Apple Music is that it frequently fails to categorize songs according to your location and is bad at finding localized music.
Even though practically all of the Amazon Music functions are the same as those of Apple Music, you may use it to find new releases and keep up with upcoming releases. The playlist on Amazon Music doesn't change every day. As a result, you won't need to change the playlist every day.
Amazon Music gives you access to buy albums from the digital shop, which is another distinction between its music library and that of Apple Music. On the other hand, Apple Music allows users to listen to various radios on its application.
Apple Music vs. Amazon Music: Streaming Quality
Both Apple Music and Amazon Music offer high-resolution lossless audio streaming at 24-bit/192 kHz; the former uses the ALAC format, while the latter uses FLAC. While both its 'Lossless' and 'HD' quality options stream at 24-bit/48 kHz and 16-bit/44.1 kHz, respectively, there is a tiny variation between them. However, you should be aware that switching Apple Music's or Amazon Music's quality settings to High-Resolution mode will take up roughly 1GB of memory space in addition to the data it would need. Therefore, it is advised that you select "High Quality" of Apple Music or "Standard" of Amazon Music unless you have purchased an unlimited data plan or are connected to Wi-Fi.
Apple Music vs. Amazon Music: Offline Listening
Apple Music's iCloud Music Library, which enables users to sync any downloaded tracks across any devices logged in with the same Apple ID, is one of its best-kept secrets. It's a useful tool without which Amazon Music is really at a loss.
There is a 100,000 song download cap for Amazon Music Unlimited, just as Apple Music. Amazon does allow you to store files to up to 10 different devices, but you are unable to sync those devices so that your download library is the same on each one.
Both of the two music streaming platforms are limited to play their songs on their own apps. Sometimes, users prefer to have their lovely songs saved or played on their devices OFFLINE without the original apps. According to the license agreement, Apple Music and Amazon Music don't allow to download their songs and move them as a common format. So, how can we download Apple Music as MP3 files? We strongly recommend you NoteCable Atunes Music Converter.
NoteCable Atunes Music Converter is specially designed to record tracks from Apple Music and convert them to common formats for offline playback. Once songs are downloaded to plain format files, you can play songs via any MP3 player, burn them to CD, and move them to any device, such as iPad, iPhone, Android phone, and Android tablet.
How to Use NoteCable to Download Apple Music
Please follow the step-by-step tutorial below to learn how to save Apple Music songs to your computer in plain audio formats.
Step 1Install and Run the NoteCable Atunes Music Converter and Choose Conversion Mode
Launch the NoteCable Atunes Music Converter on your computer. And then you can choose App Mode or Webplayer Mode as your conversion mode.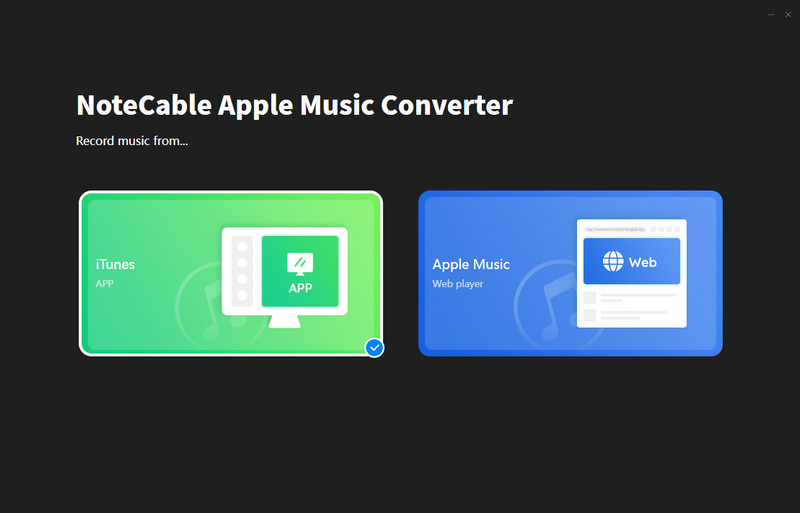 Step 2Sign into Your Apple Music Account
On the front page of Webplayer Mode, tap on the Sign in entrance. You ought to enter the necessary information to access your Apple Music content.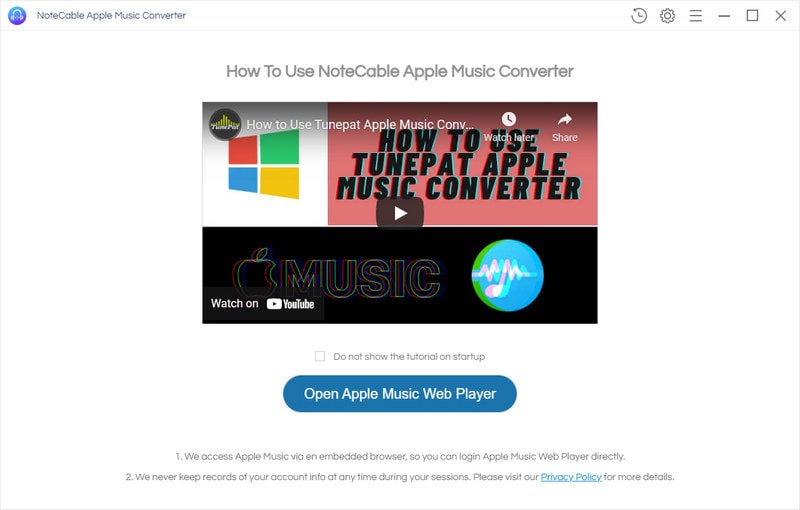 Step 3Choose the Output Settings
Default settings will output all the Apple Music to the original AAC 320kbps.You can change it into MP3 to suit your own need in the Settings part on the left bar. You can set up the output format, output sound quality, output folder, output file name to meet your personal needs.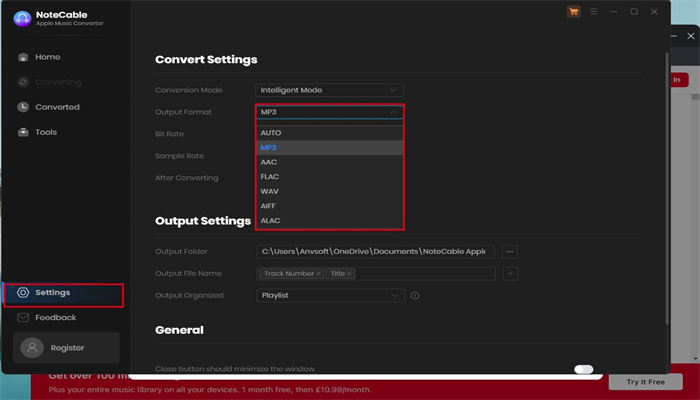 If you are used to putting all downloaded songs in one folder, you can set up the option to None on the output organized column.
Step 4Add Apple Music Playlists to Convert
Now, pick a playlist of the songs that you want to get them to get downloaded. By clicking on the feature Click to add, NoteCable will read the current playlist and put them in the conversion panel. You then can select the songs to convert.
If you want multiple playlists conversion, you can click Add More button to add more playlists. All playlists will be converted when you press Convert button to work out the task.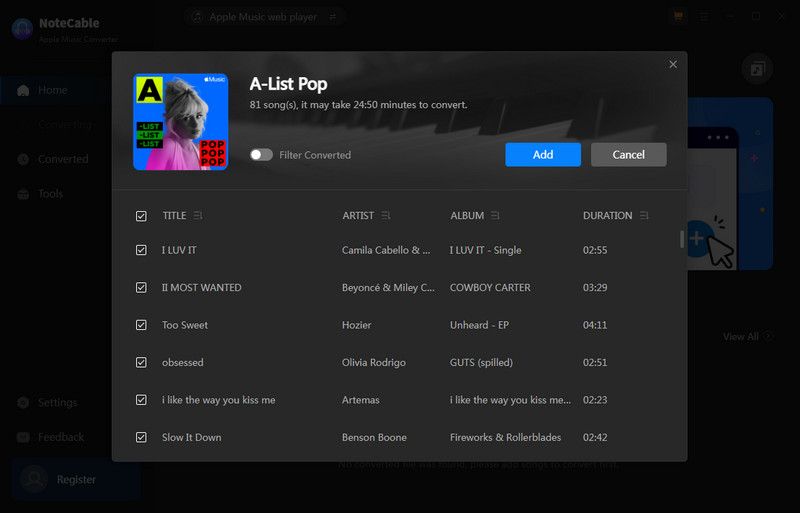 A brilliant 10X conversion speed will cut off the costs of the time spent waiting.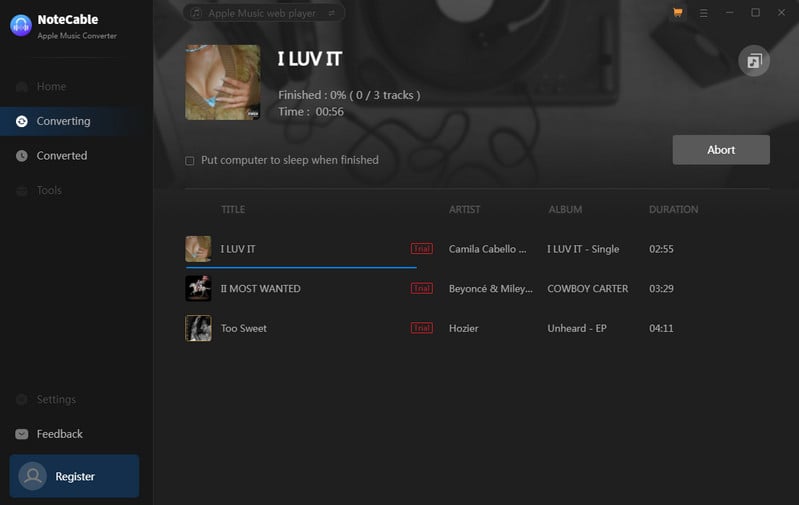 Step 5 Check Out Complete Apple Music
Finally, you can move to the Converted section on the left bar. And by tapping the Folder icon after the songs, you can reach out to the local place.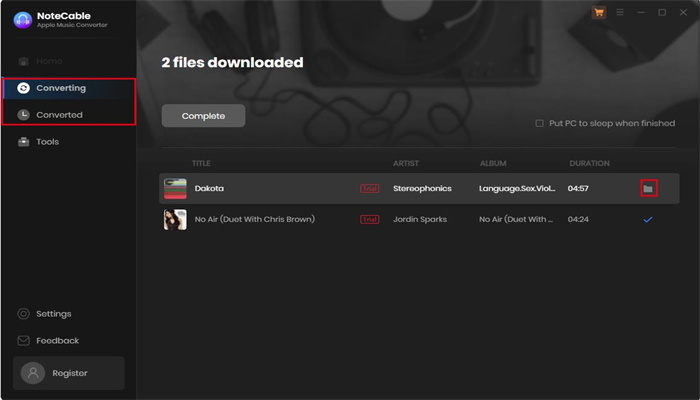 Note: The free trial version of the NoteCable Atunes Music Converter enables you to convert only one minute of each song. You can unlock the limitation by purchasing the full version.
Apple Music vs. Amazon Music: Music Sharing
According to the Plans, we all know that both of Apple Music and Amazon Music provide family plan which contains six accounts, and the latter costs $1 more than the former
However, Apple Music shows the greater power of sharing music with others by providing a service called Family Sharing. The Family Sharing features on iOS devices are very convenient. You can connect to multiple family members to share music, TV, and news that you enjoy on your own devices. It allows users to get closer to their families. Sometimes Apple Music Family Sharing doesn't work well for unknown reasons. To be honest, there are lots of reasons that lead to this problem, such as mismatching Apple IDs, unshareable files, and so on. There are lots of methods for you to solve the problem of Apple Music Family Sharing not working.
No user-to-user social networking platform has been introduced by Amazon Music. Even if your friend is using the service, you can only directly share the link to the song you are listening to via messaging.
Apple Music is accessible on iPhone, iPad, Apple Watch, Apple TV, Mac, HomePod, CarPlay, PC, Android, Sonos, Amazon Echo, Samsung Smart TV, Google Nest, and PlayStation 5 in addition to browsers and the iOS and Android apps. In Alexa Auto, which also has to be built-in, Amazon Music can integrate with a very similar system. With the Echo Auto, a little gadget that also enables you to stream Amazon Music on the go, you might upgrade your current wheels instead. The Fire TV line of media streamers and the Amazon Echo speakers are among the other similarly wide range of auxiliary equipment it has.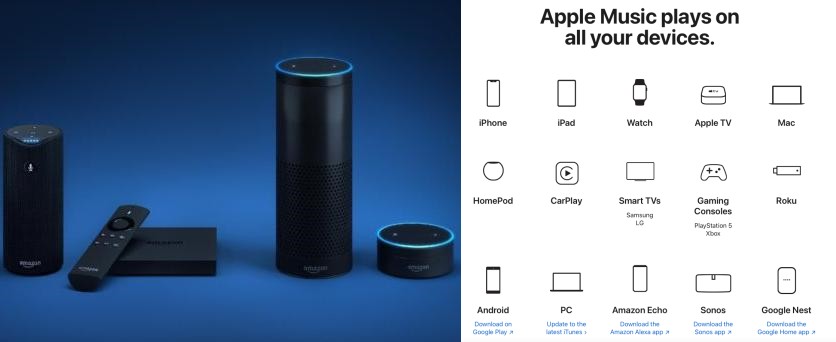 Voice Plan and Spatial audio with Dolby Atmos are undoubtedly the most sharable features here. The streaming service Apple Music Voice Plan is made to work with Siri. With your voice, you may access over 100 million tunes. The fact that you can ask Siri to "Play something chill" or "Play the dinner party playlist" and receive customized music experiences as a result is what surprises people the most. There have been created countless new mood and activity playlists.
Refer to Spatial audio with Dolby Atmos, it gives you the impression that you are seated right in the heart of a symphony orchestra, which makes users will be able to hear the exact same music that the artists recorded in the studio. It is compatible with Apple products including the Apple TV, iPhone, iPad, AirPods Pro, AirPods Max, Mac, and others. Additionally, this is at no extra charge with over 100 million songs.
Alexa Controls, a voice interface for Amazon Music, was released relatively early. You can ask Alexa to play or pause music, even make playlists, while streaming from any compatible Echo or Fire TV device.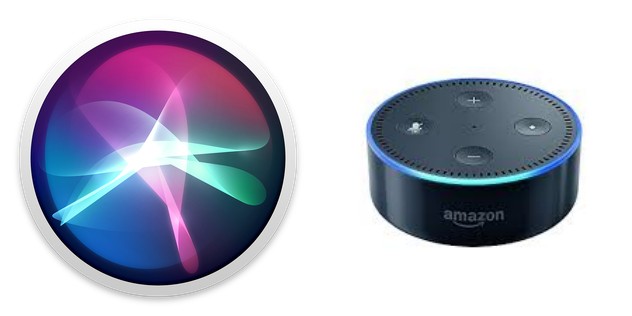 Regarding 360-degree sound, Apple Music and Amazon Music have different features. Thanks to Dolby Atmos with Spatial Audio, Apple Music users always have a satisfying listening experience. Even when used with headphones, it offers a virtual 3-D experience.
Amazon has partnered with Sony and added support for Sony 360 Reality Audio to improve the experience. You will also receive the Dolby Atmos functionality. But take note that Dolby Atmos playback is only enabled by the Amazon Echo Studio, while 360 Reality Audio is limited to the Echo Studio, Sony RA3000, and RA5000 speakers.
Apple's CarPlay system works with both Apple Music and Amazon Music. If your car doesn't support CarPlay, you can still stream Apple Music using an integrated app, Bluetooth, or a cable connection without using an external device.
Alexa Auto, which needs to be integrated, works best with Amazon Music. To stream Amazon Music on the go and improve your listening experience, you can get an Echo Auto device
Both Apple Music and Amazon Music have over 100 million tracks for users to stream with high-resolution lossless audio quality, show various music contents to users, and offer a means of extending your music taste including your favorite songs and some potential liked songs. In addition, they both give you enjoyable experience in your daily life.
Which should you go for? It depends on your convenience.
If you are a fan of iOS system, it is a more suitable choice for you to use Apple Music on your devices. You will be more familiar with Apple system and enjoy the songs in your daily life. Users preferring listening to a radio will get a lot from Apple Music Radio.
If you are a frequent subscriber of Amazon Prime or Unlimited, it is definitely great for you to go for Amazon Music. If you like to collect digital album, you can buy digital albums on Amazon. You can also have a good experience to get access with podcasts with Amazon Music.
Ultimately, it depends on your musical preferences. Nevertheless, we hope that this article has helped in some way to shed light on specific aspects of each app that will aid you in making a choice. If so, you can always download a free trial version of both programs and give them a try.
---