Home > Spotify Music Tips > Spotify Gift Card
[2023 Updated] FAQs about Spotify Gift Cards
If you are a Spotify user, you may have heard of Spotify gift cards. Spotify gift cards are a great gift to give or receive, and once you get one, redeeming one is a piece of cake. If you or someone you know loves streaming music and curating playlists that reflect their mood, a Spotify subscription is a must. With over 100 million songs in its catalog, you're sure to find your favorite music and artists. While Spotify is far from the only streaming service available, it is the one favored by most people. It's been around for a long time and has a huge music library and unparalleled personalization. It's safe to say that most people you know probably use Spotify.
As with any popular service, Spotify gift cards are available in most stores. There are also gift cards for Netflix, Amazon, Roblox, and more. Like any gift card, Spotify gift cards are easy to use. You get a gift card from someone, enter their information online, and instantly get a few months of free Spotify streaming. It sounds complicated, so now let's introduce the Spotify gift card in detail step by step!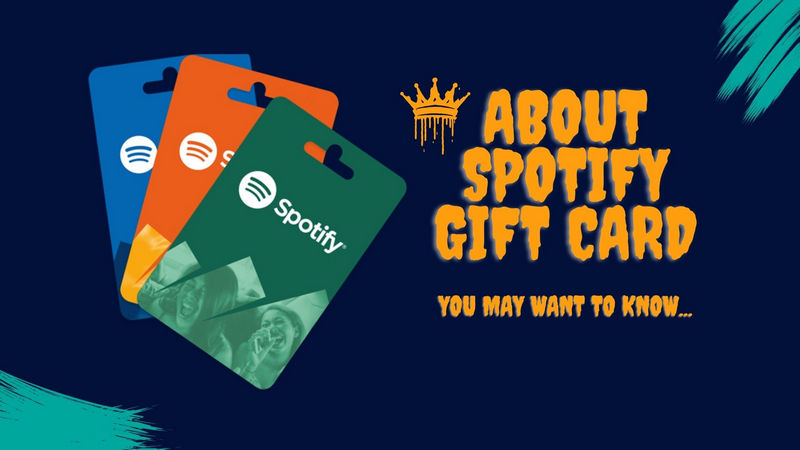 A Spotify gift card is a prepaid card that can be used to purchase a Spotify subscription or top up an existing account. It allows recipients to enjoy ad-free music streaming, access to millions of songs, and the ability to create playlists and discover new music. Spotify gift cards are a popular choice among music lovers and make great gifts for birthdays, holidays, or any special occasion.
1. Purchase: You can purchase Spotify gift cards online or offline from authorized retailers.
2. Redeem: To redeem a gift card, visit the Spotify website and log in to your account. Then, visit the redemption page (spotify redeem) and enter the PIN or code found on the back of the gift card.
3. Application: Once you redeem your gift card, your balance will be immediately applied to your next Spotify Premium bill. The gift card will upgrade you to Premium if you have a free account, or extend your subscription if you already have Premium.
4. Enjoy premium benefits: With Spotify Premium, you can enjoy ad-free listening, offline downloads, high-quality audio streaming, unlimited skips, and more.
Precautions for using gift cards:
① Account country/region settings: The country setting for your Spotify account needs to match the country where the gift card was purchased. Check the country or region under Settings > Profile on your account along with your username, email, date of birth, and information.
②Activate from a retail store: If the gift card was purchased from a retail store, it must be activated by a cashier in order to be redeemed. Please ask the cashier if it is activated.
③Code format: Spotify gift card codes are alphanumeric characters consisting of uppercase letters, numbers, or a combination of both. Please make sure you enter the correct code during the redemption process.
④Premium time stacking: Your account can only accrue a maximum of 18 months of Premium time. This means that if you already have an existing Premium subscription, the validity of the gift card will extend your subscription by the number of months specified on the card, up to a total of 18 months.
Step 1: Go to Spotify Redeem
The first thing you need to do to redeem your Spotify Premium code is to visit the right website. Any browser supports this activity.
Step 2: Create an account or log in
Once you have gained access to Spotify Redeem, you need to create a new account or log in to an existing account.
For first-time users of the site, click on the "Create New Account" option and follow the prompts.
If you already have a Spotify account, it's best to use your current account. Enter your username and password when prompted.
Step 3: Enter the advanced code
Once you're logged into your account, remove your gift card and use a coin or card to gently scratch off the PIN cover to reveal the code. Then, enter the code where prompted.
Step 4: Redeem with the code
After entering the code, press the Redeem code, and now you have got Spotify Premium
If you already have a Spotify Premium account but want to share the joy of Spotify with others, you may ask how to gift Spotify Premium. To achieve your goal, all you have to do is send them a gift card/code. Gift cards can be purchased in-store or online. If you buy a gift card from a store, you'll get a physical card that you can give to other people. When you buy a gift card online, you need to know the recipient's email address. The code will be sent directly to them, and they can then follow the steps listed above to apply that information to a new or existing Spotify account.
There may be a number of different reasons why the Spotify Premium code isn't working, you can refer to the following to find the specific problem:
1. The most common problem is entering incorrect information. The code is case-sensitive, so you need to make sure that uppercase letters are capitalized. It's also possible that you've confused the case of O with 0, or vice versa.
2. Other reasons why the code might not work include gift cards that can only be used on individual plans. They cannot be applied to family, student or two-person plans. If this is what you are trying to redeem a code for, you will not be able to redeem it.
3. Spotify Premium gift cards are valid for 12 months from the date of purchase, so please check carefully to make sure they have not expired. The region or county setting on your account must also match the location where the gift card was purchased, so this could be another reason why the code isn't working.
4. After checking all of these items, if you find that you are still having issues with your Spotify Premium code, you may need to contact customer support.
1.1. Check the similarity of characters
Some characters in gift card codes may look similar, such as a zero ("0") and a capital "O", or a capital "I" and the number one ("1"). Please make sure to distinguish these characters carefully when entering the code to avoid errors.
2. Enter the verification code correctly
Please be patient while entering the gift card code on the redemption page. Check the characters carefully to make sure there are no typos or errors.
3. Be patient to try
If you encounter an error during the redemption process, avoid trying multiple times in quick succession. After four failed attempts, you will receive an error message. At this time please do not try again for 24 hours.
4. Wait 24 hours
Once you reach the limit of four failed attempts, please wait 24 hours before trying to redeem your gift card again. Spotify systems enforce this waiting period to prevent abuse and ensure security.
Spotify gift cards allow you to get all the features of Spotify Premium, which can indeed meet our music enjoyment needs. However, it's temporary. As we mentioned above, there is a time limit for redeeming Spotify gift cards for Spotify Premium. If you want to listen to Spotify Premium music for a long time, this is not feasible.
Don't worry, if you want to continue enjoying Spotify Premium music, We will introduce you to another useful method next. NoteCable Spotify Music Converter is designed for downloading individual Spotify tracks, playlists, entire albums, and podcasts to your local computer. It allows you to download Spotify songs in pure music formats including MP3, AAC, FLAC, WAV, AIFF, and ALAC. You can then listen to Spotify songs for free on your phone, MP3 player, DJ software, car or any compatible device.
The Tool You Need:
Step 1Install and Run the NoteCable Music Converter and Choose Conversion Mode
Launch the NoteCable Spotify Music Converter on your computer. And then you can choose App Mode or Webplayer Mode as your conversion mode.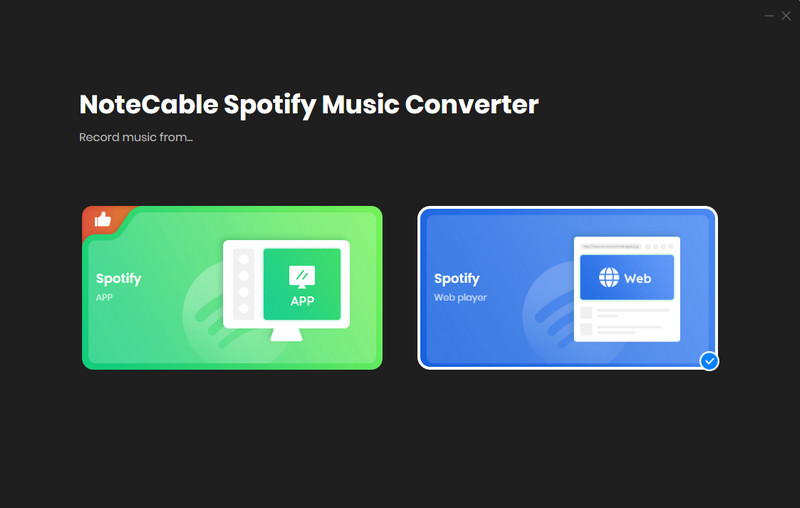 Step 2 Sign into Your Spotify Music Account
After choosing Webplayer Mode, you can log in to your Spotify account to access your Spotify playlists.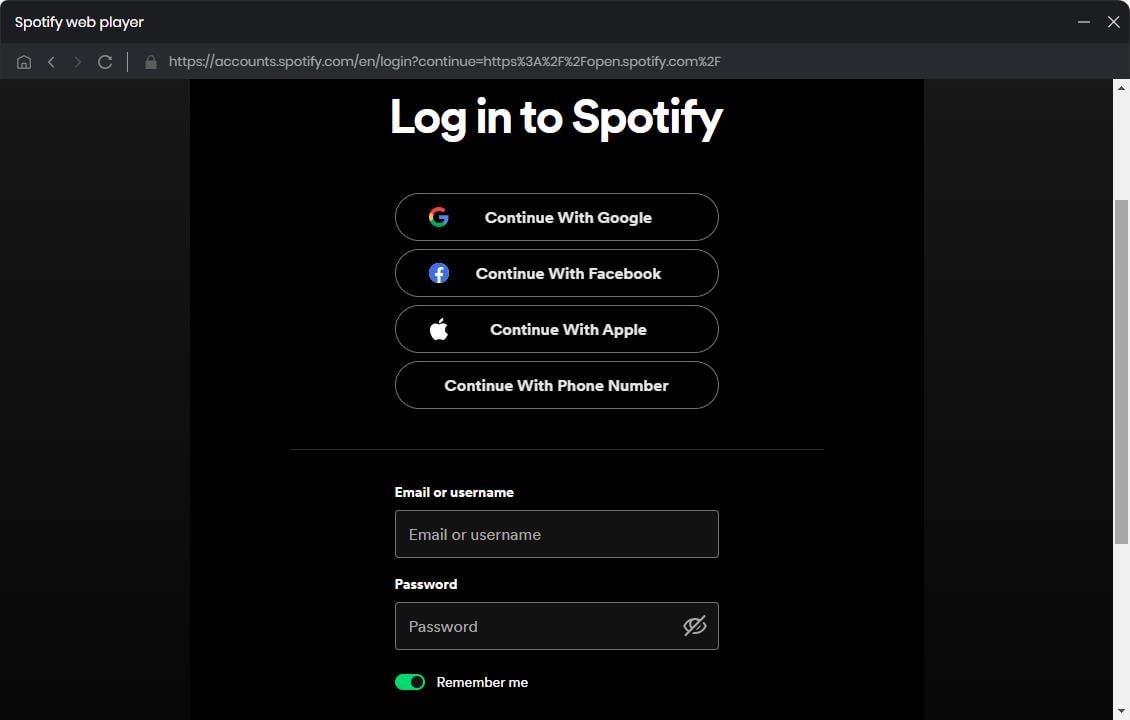 Step 3 Set Output Settings
Please go to click the Settings section on the left panel. Here you can set the output format, bit rate and sample rate of Spotify music. In addition, you could choose an output folder on your computer to store the downloaded Spotify music.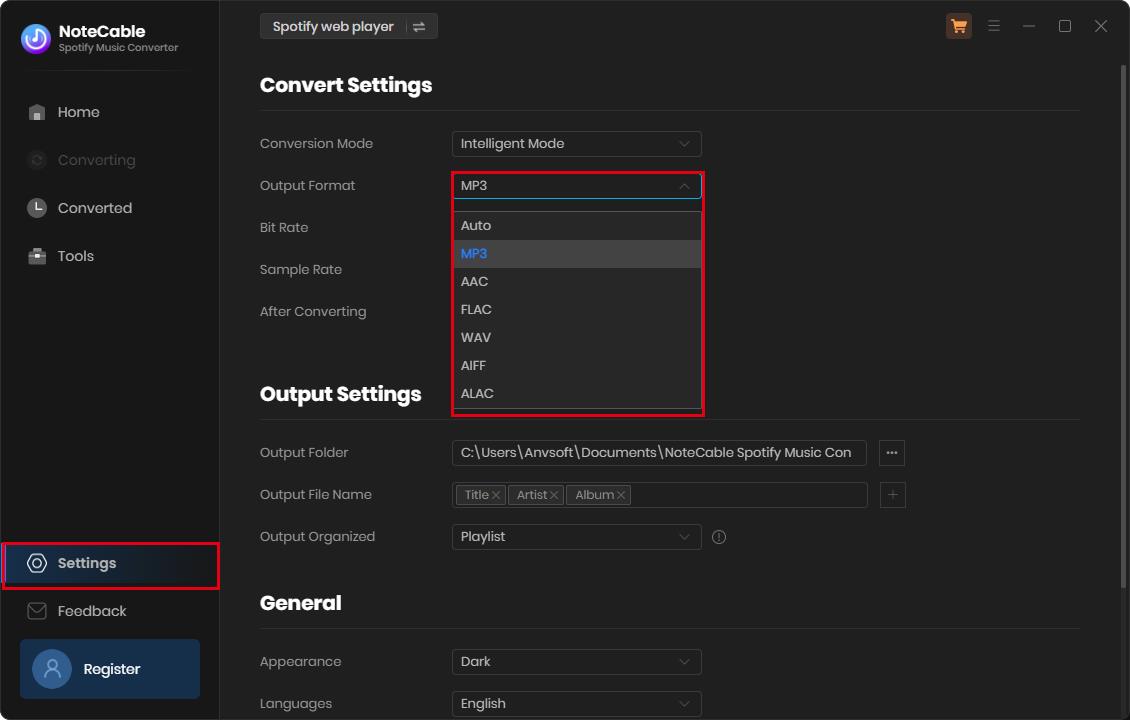 Step 4 Select Music to Convert
Now Choose a playlist from Spotify Premium you want to download. Next, click Click to add

button. Then NoteCable will recognize and load all the songs in this playlist. Tick the songs you'd like to download. Next, click Convert to start downloading.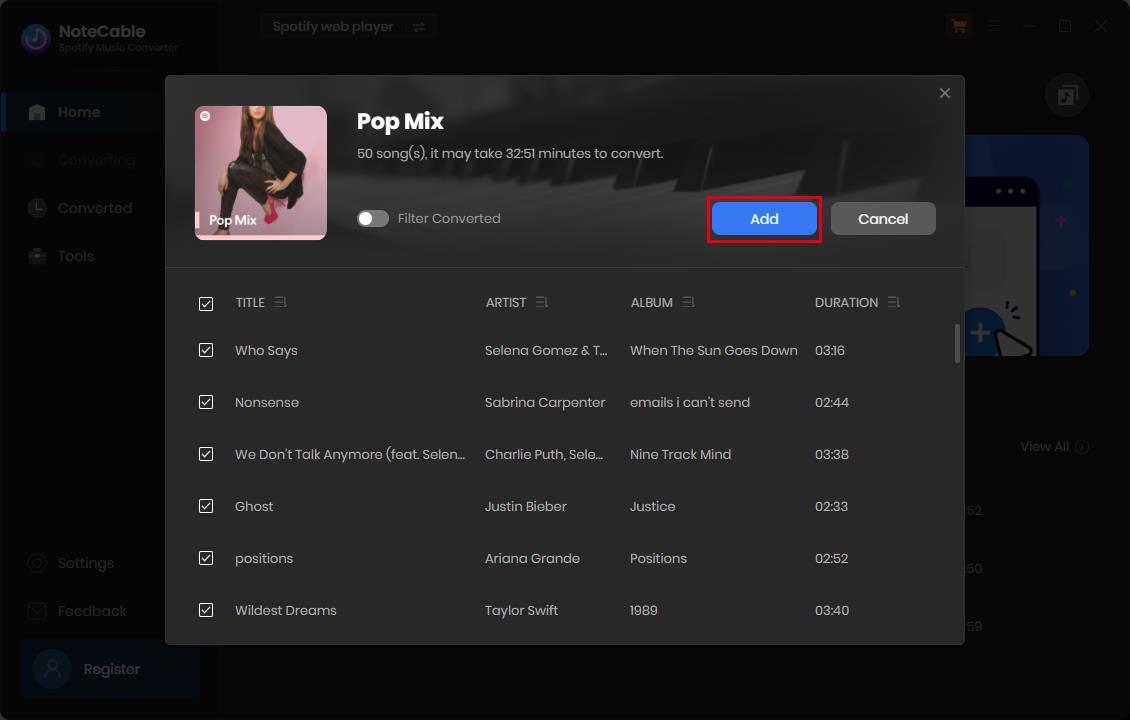 Step 5Check and locate the Downloaded Songs
Once downloaded, they will be stored in the local storage, in the destination folder. After the conversion is completed, click the Converted part, and you will find downloaded songs listed here. Click the folder icon behind the Duration, you can reach out to the local folder of your computer and you can also change the location of the songs at the same time.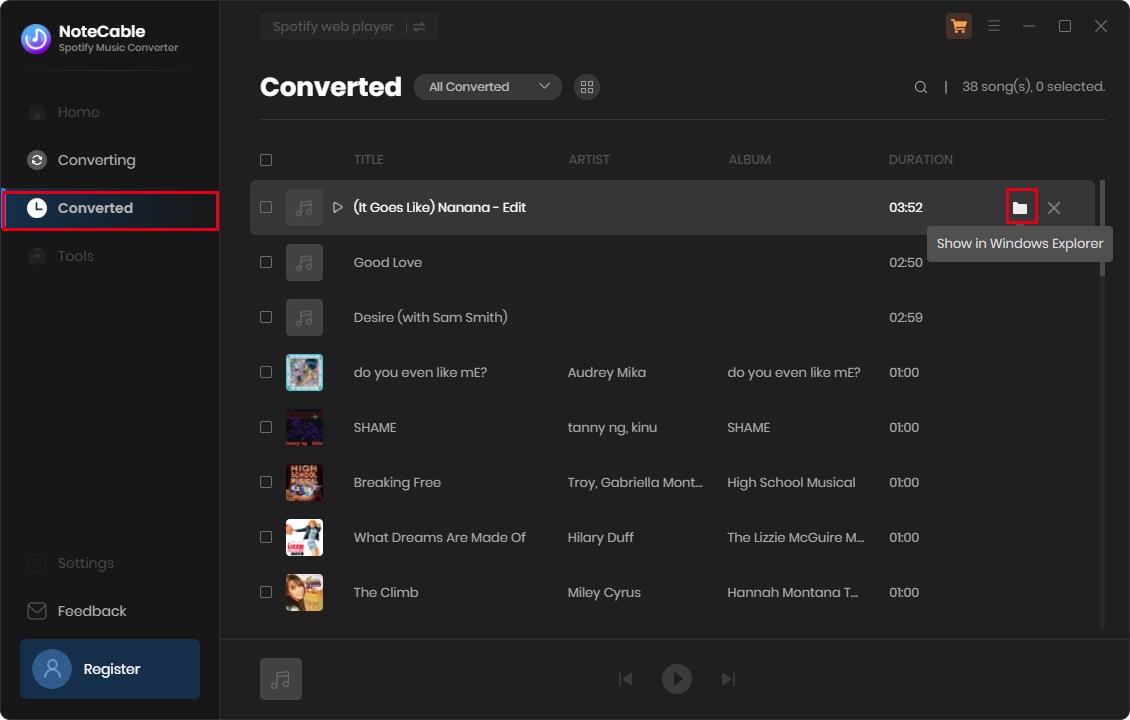 Since your Spotify songs have been downloaded as local music files on your computer, now you can enjoy the Spotify Premium songs for free.
Note: The trial version of NoteCable Spotify Music Converter enables us to convert the first minute of each audio file for sample testing, you can unlock the time limitation by purchasing the full version.
Summary
In short, we have introduced what a Spotify gift card is, how to use it to redeem Spotify Premium, and how to solve the problem if the redemption is not working properly. If you have recently obtained or been given a gift card, you can refer to this article. If you want to unlock more Spotify music and have more fun, NoteCable Spotify Music Converter can meet all your needs.
---