Home > Spotify Music Tips > Top 8 Best MP3 Players with Spotify App in 2023
Top 8 Best MP3 Players with Spotify App in 2023
"Is there any MP3 Player that works with Spotify? Sometimes I go to some places without Internet connected, I can access my Spotify with my smartphone, and I'd like to bring a Spotify MP3 Player to enjoy my Spotify songs with better enjoyment. Can you show me some?"
As an avid music fan, you always want the best device on which to listen to your favorite tunes. It's no wonder that so many people opt for MP3 players with a Spotify app – they offer unparalleled convenience and access to all of your favorite songs! We've put together a list of the top 8 best MP3 players with Spotify app in 2023, so if you're looking for the perfect device to match your stellar taste in music, look no further! You won't be disappointed.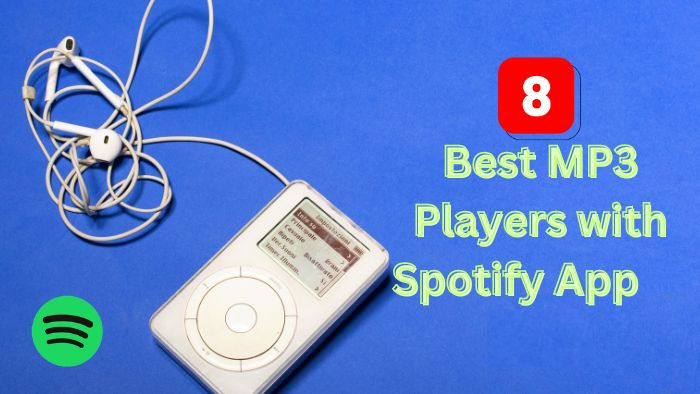 Mighty is compatible with all Spotify Premium plans, including Spotify Family, Spotify Students, and Spotify Kids.
All Bluetooth speakers, headphones, and in-car entertainment systems are compatible with Mighty. No phone is required when using Mighty because it will automatically reconnect each time you wish to listen to music through Bluetooth. Mighty also functions with wired headphones.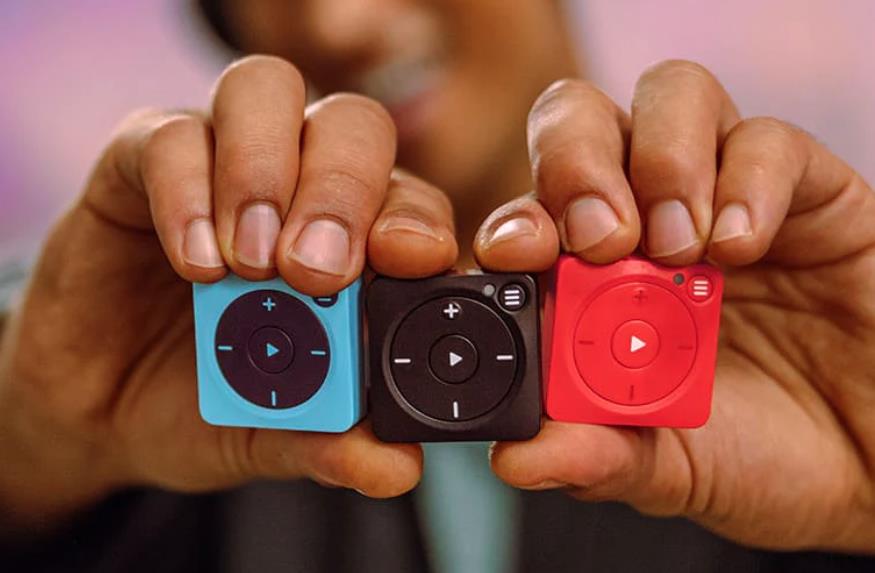 With a touchscreen-controlled user interface, the iPod is a discontinued range of iOS-based mobile devices developed and marketed by Apple Inc. The iPod Touch may be used as a portable media player, a handheld gaming console, a digital camera, a web browser, as well as for email and messaging, just like other iPod models. It has a similar design to the iPhone and can run the majority of third-party apps available in the App Store for the iPhone, but it only uses Wi-Fi to access the internet and does not use cellular network data.
According to the latest system requirement of Spotify in 2023, only with iOS 14 or above running, can Spotify be downloaded on the Apple devices. That's to say, only iPod Touch 7th generation or above that runs iOS 15 supports Spotify Music, as well as Apple Lossless.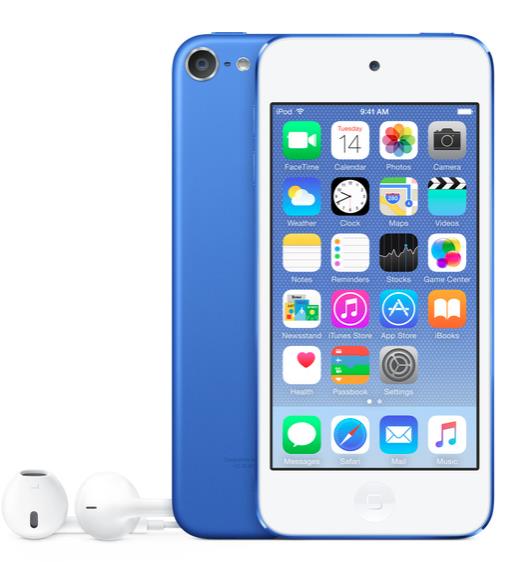 Sony has produced numerous various Walkman models over the years, including ones that can play digital audio files in addition to the original Walkman's cassette player functionality. People prefer Sony Walkman players over those made by other companies for a number of reasons. One explanation is that Sony Walkman devices are robust and can tolerate significant wear and tear. They are also quite simple to use, especially for those who are not tech-savvy. And lastly, Sony Walkman players often have greater sound quality than other models.
Sony Walkman is a great choice to listen to MP3 songs, but Spotify music streaming on a Sony Walkman MP3 player requires a Wi-Fi connection. Due of its exceptional construction quality and intricacies, it typically costs between $200 and $3100. As a result, many people who want high-quality audio now choose this luxury as their top option.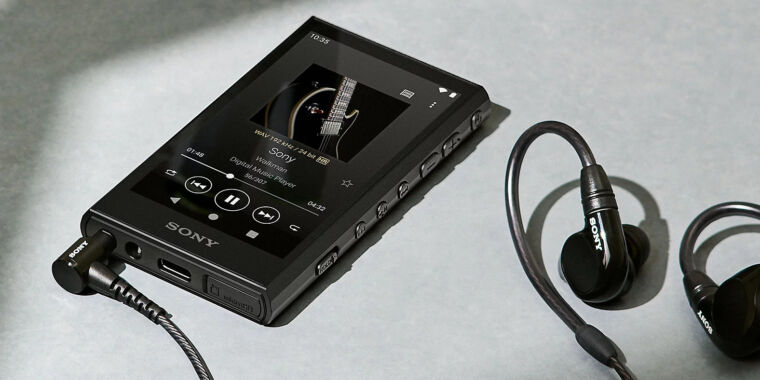 On your Galaxy watch, you may add, remove, and customize apps just like on your phone. Create a smartwatch that is unique to you and your preferences.
Once installed, you can play directly from your wrist, or to another device with Bluetooth or Spotify Connect.
If you have Premium, you can also:
Control what plays on another device with Spotify Connect.
Download playlists to listen offline.
Search with text controls.
Enjoy Premium sound quality.
Note: Features may vary depending on device model.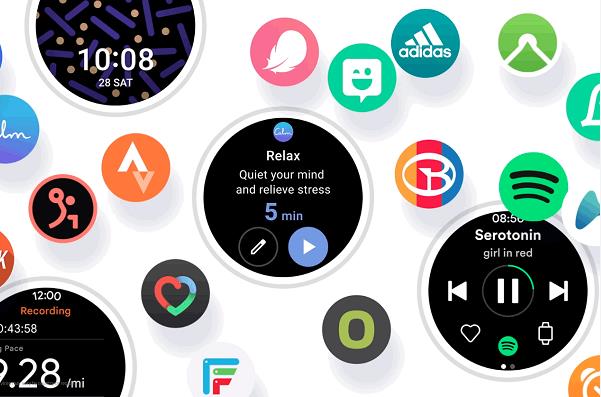 Spotify Premium users can stream music, podcasts, and audiobooks from Apple Watch, and also download them to play offline without an internet connection.
Note: Free service customers cannot stream directly to or listen offline on their Watch. They can use the Watch to control Spotify on other devices.
To play from your Watch without your phone, you need:
Spotify Premium
Apple Watch Series 3 or later
watchOS 7.0 or above
Paired Bluetooth headphones to the Watch
A cellular or WiFi connection
Download tracks to your Apple Watch from the Watch app:
You can download at least 10 hours (depending on your model) of music and podcasts to Apple Watch so you can listen without the internet.
Step 1: Turn right to access the home screen.
Step 2: Find a playlist you'd like to download, and tap Download.
Note: There's a limit of 100 downloads per playlist.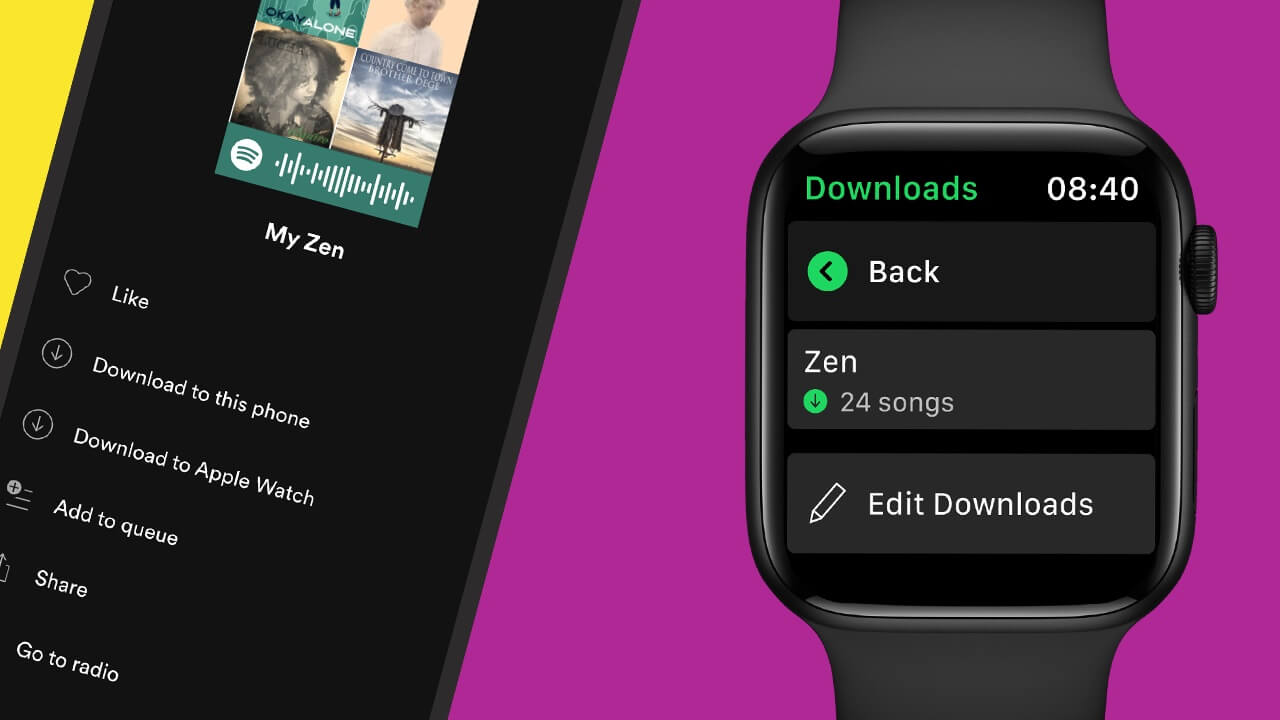 Luoran M4 Pro MP3 Player Pre-installed Spotify, Audible, Pandora, Amazon music, Apple music and supports APK download. This portable music player supports audio formats, such as MP3, OGG, APE, FLAC, WAV, AAC, M4A, M4R, MP2, AMR, and ACELP.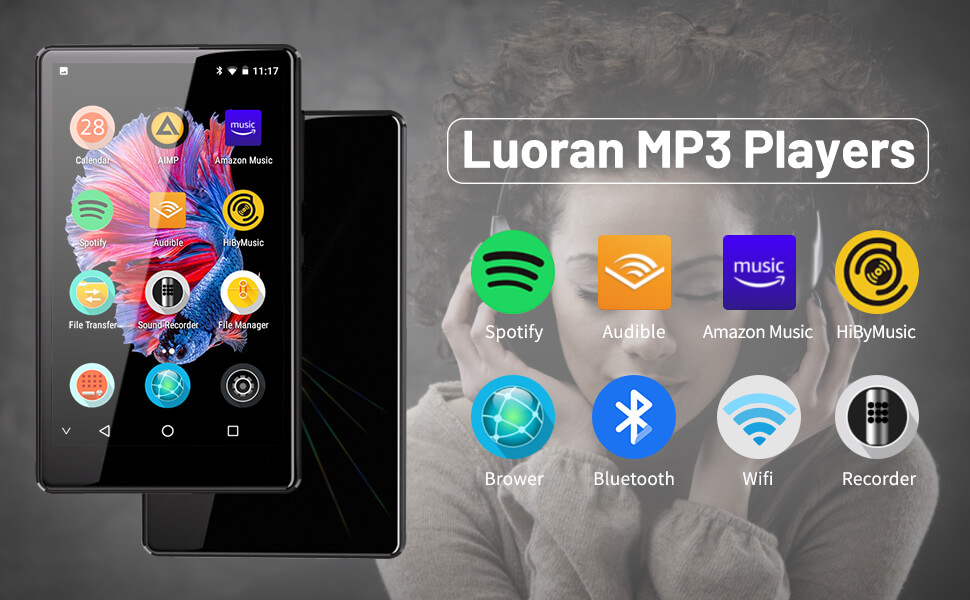 PECSU P5S Bluetooth MP3 player supports custom installation of streaming music apps through browser. It comes pre-installed with three offline music apps and many popular online music apps, including Spotify, Pandora, Deezer, Tidal, Apple Music, Amazon Music, etc. You can stream music from Spotify whenever you like without Internet.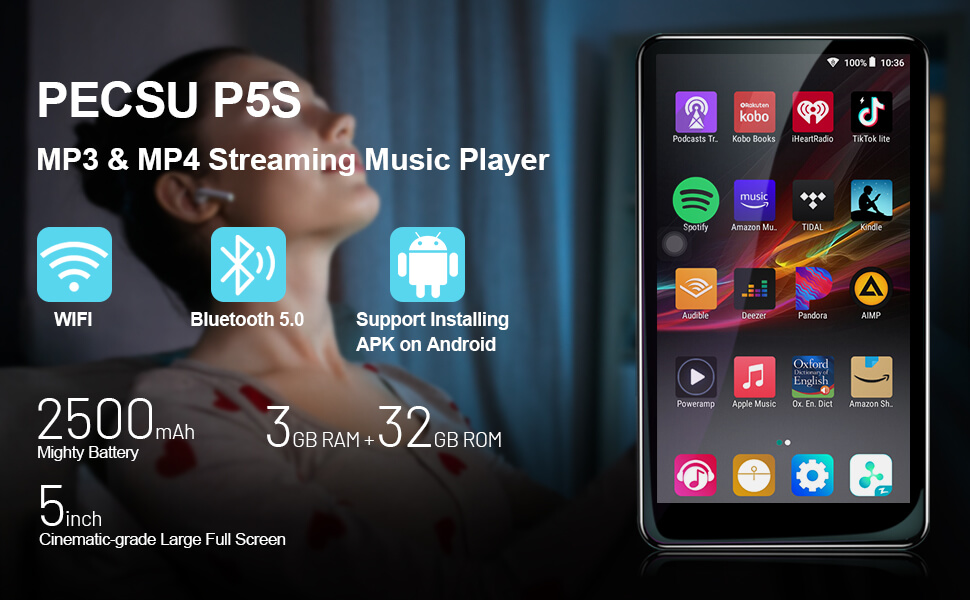 The Spotify Connect IQ app lives on your Garmin watch and is tied to your Spotify Premium account. When your watch connects to Wi-Fi, it will sync with Spotify allowing you to select your saved playlists to download and allow you to sync saved playlists to your compatible Garmin watch when you are subscribed to Spotify Premium.
For Premium:
DJ from your wrist with Spotify on Garmin Smartwatch.
Download music and podcasts to your Garmin Smartwatch to listen offline and without your phone.
Note: You can only play music and podcasts you download.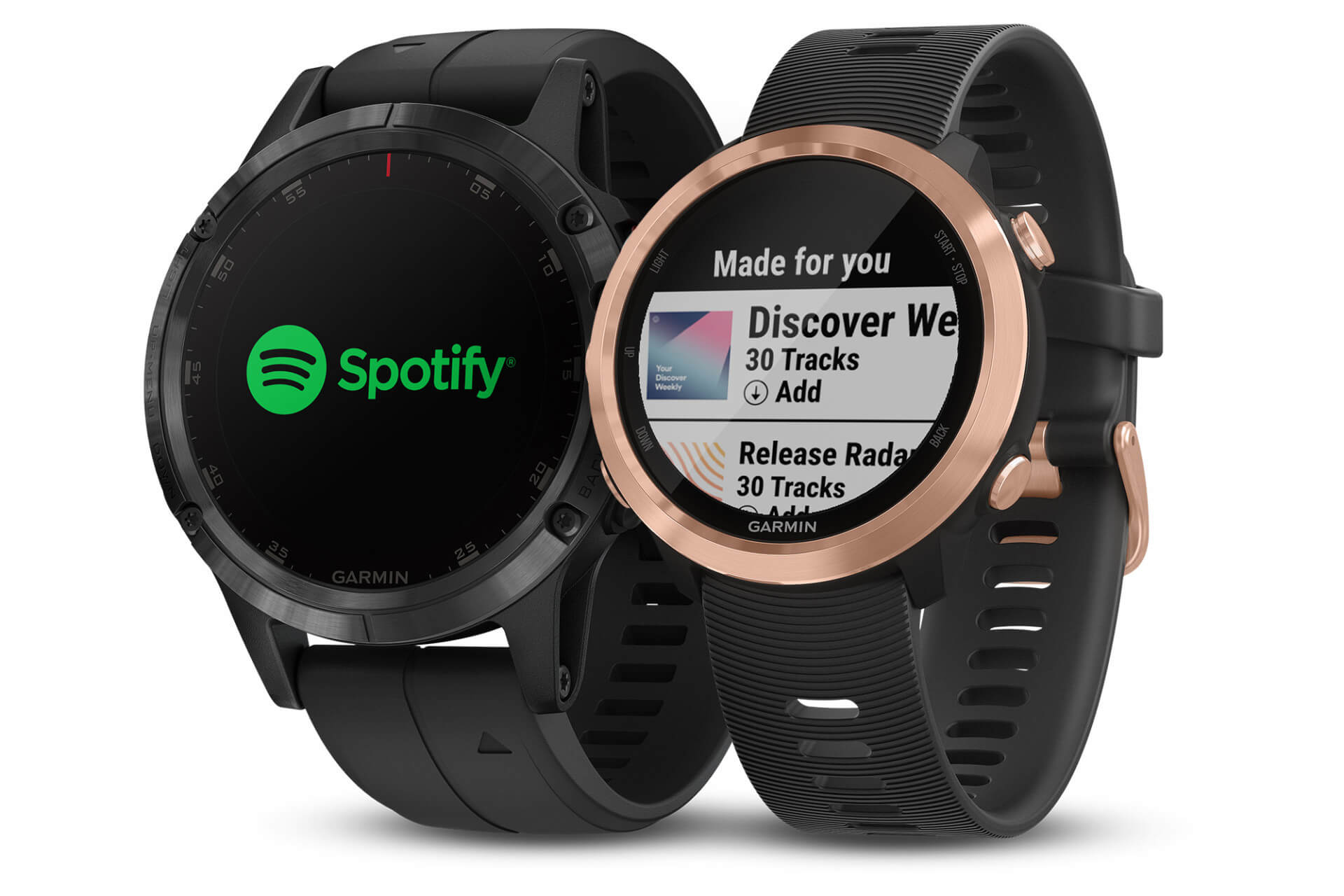 The MP3 players above are various, and each of them has their own characteristics. Some of them support listening to Spotify with Wi-Fi, Bluetooth or music files inserted, the others only accept downloaded music files inserted. So, how can we play Spotify on any MP3 player? The common feature of the two types of MP3 players is that you can sync your downloaded music songs as MP3 files to your MP3 players and play them on your MP3 player.
We need to discover a more effective method to cope with this issue because it is impossible to directly save Spotify downloads as MP3 files and it is inconvenient to install additional software. You may find millions of Spotify Music Converters when you search on Google. We can categorize them into two groups in a brief manner. One application requires you to simultaneously install the Spotify app, but the other enables you to convert music files without the Spotify app. The latter is represented by NoteCable Spotify Music Converter.
Step 1Download, Install and Launch NoteCable Spotify Music Converter.
Download, install and launch NoteCable Spotify Music Converter, and click Open Spotify Web Player.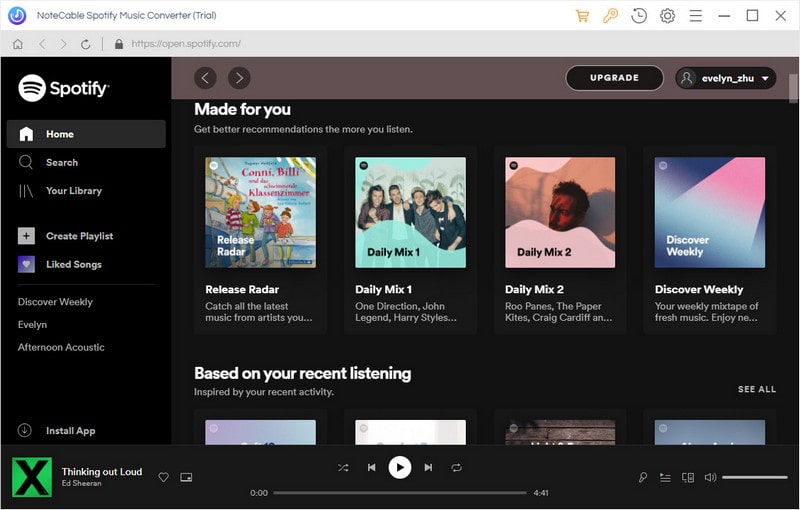 To access the Spotify Music library, you can log in with either a Spotify Free account or a Spotify Premium account.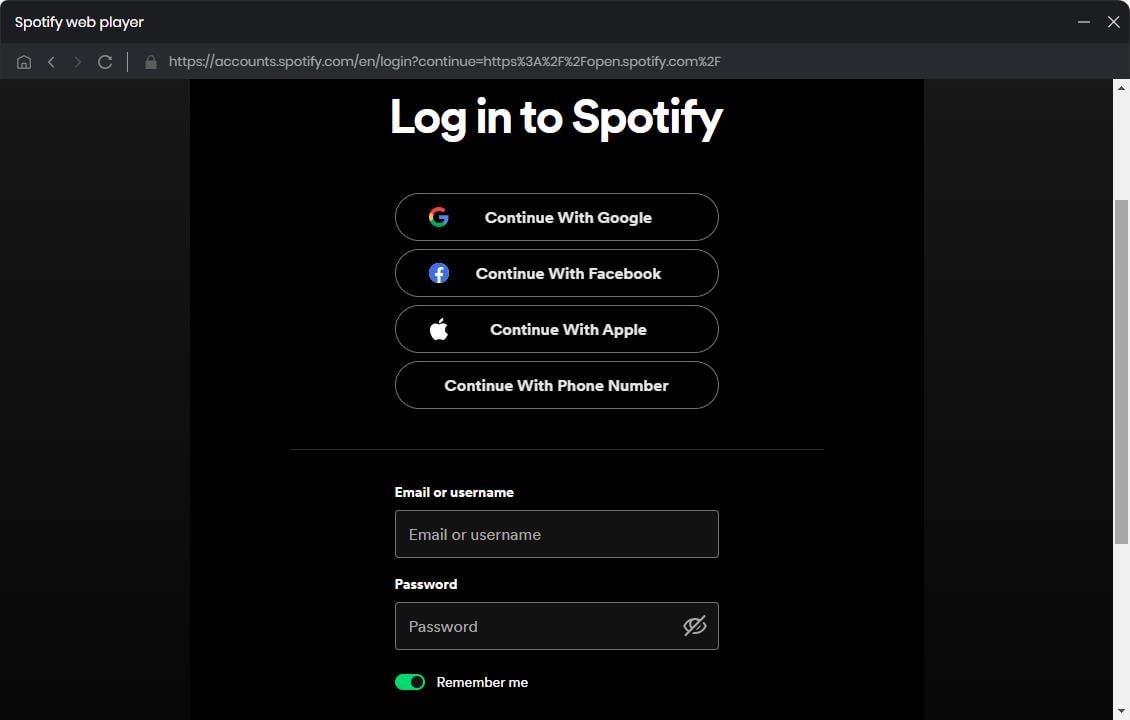 Step 2 Set Output Format or Output Path
Click the Settings icon in the upper right corner. Here you can choose the output format (MP3/AAC/WAV/FLAC/AIFF/ALAC), customize the output audio quality, the output path and how you'd like to name and sort out the converted files.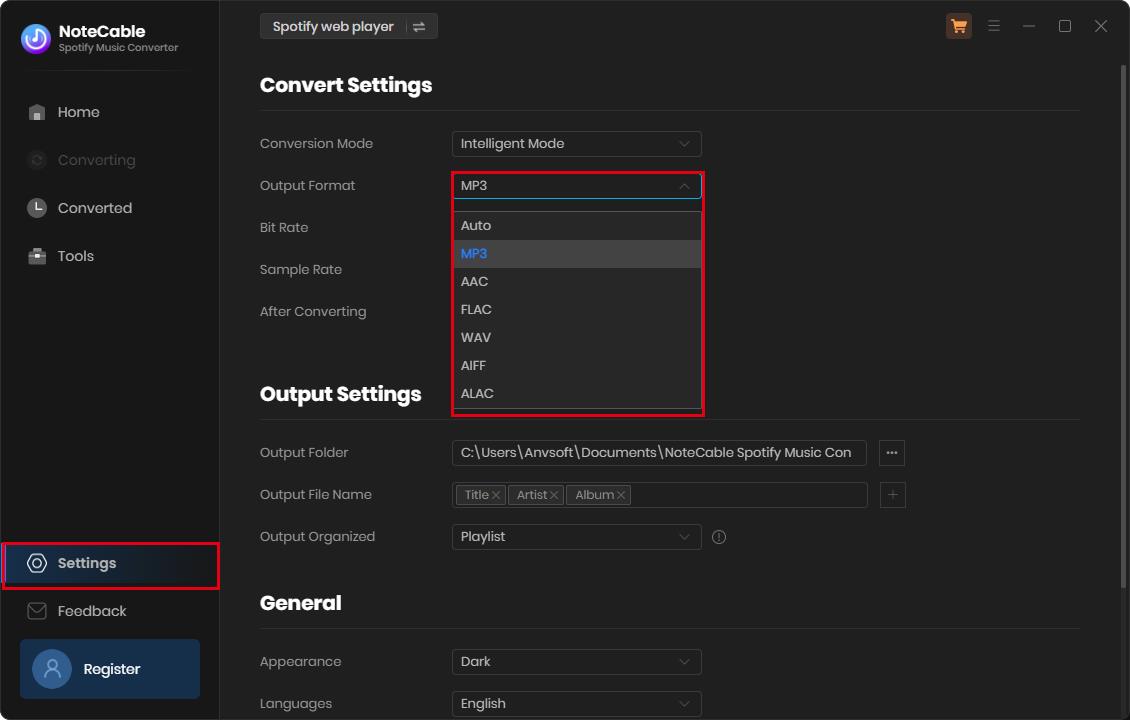 If you choose Auto as the output format, NoteCable will convert music at a faster speed. For better organizing your music library, you can save the output audio files into the folders sorted out by Artist, Album, Artist/Album, or Album/Artist. In addition, NoteCable allows you to customize the name of the output files and save the output audio files in the same order as the original playlist.
Step 3Add Music and Playlists to NoteCable
Open a playlist, click the floating Add button, and it'll display all the songs in that playlist. Select the songs that you'd like to transfer to your MP3 player and then click OK.
Tips: If you need to select songs from multiple playlists, click Save to list and then go back to Home, select another playlist and follow the same steps till all your desired songs are chosen to be converted.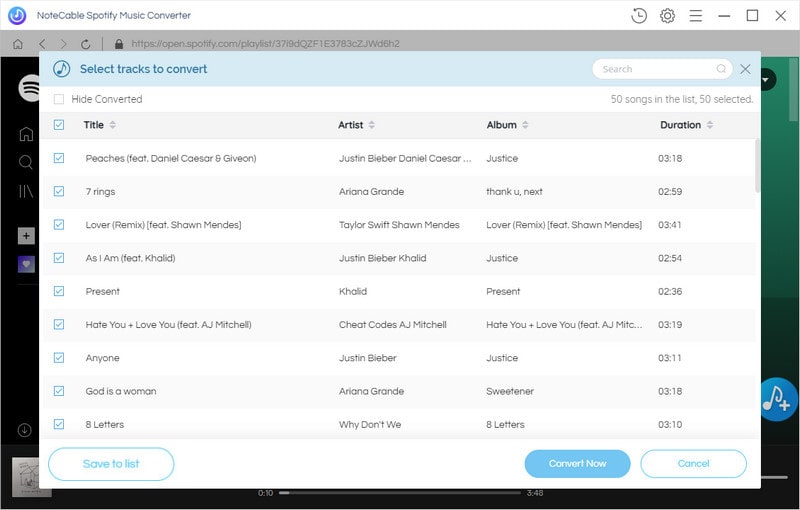 Step 4Convert Spotify Music to MP3
Click Convert Now, and NoteCable Spotify Music Converter will immediately start to download the music from Spotify to the customized output folder.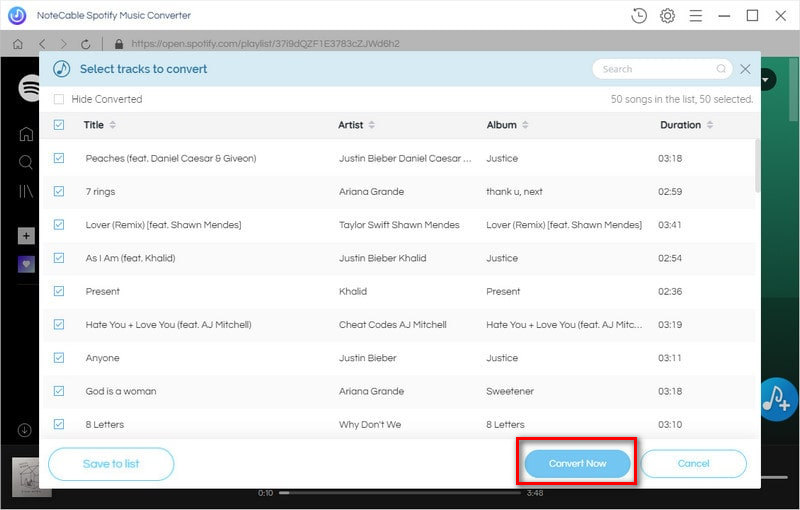 Step 5Check Spotify MP3 Downloads
Once the conversion is done, click the history icon, and you can check all the Spotify songs that have been downloaded successfully. Go to the output folder and you'll find all the Spotify downloads in MP3 format.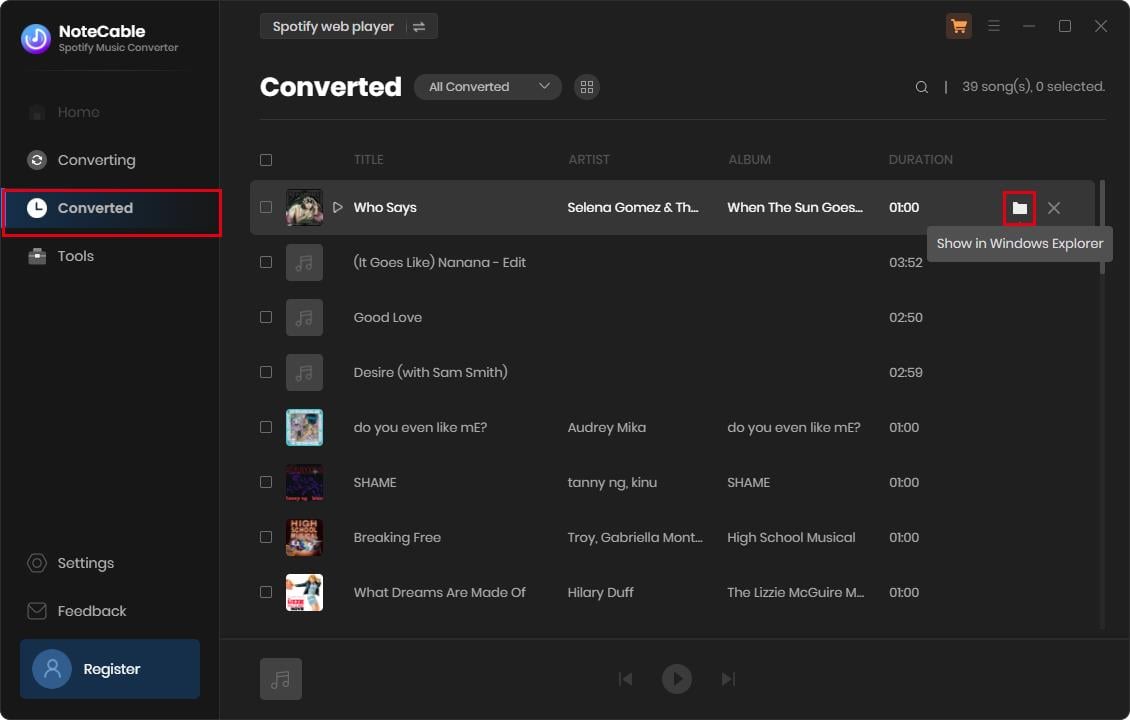 Step 6Export the Spotify Playlists to MP3
Now that the Spotify songs have been downloaded as .mp3 files, you can easily export the Spotify playlists from your computer to MP3 players.
The free version of NoteCable Spotify Music Converter enables you to convert the first one minute of each audio track and you can convert three songs in a single go. You can unlock the limitation by purchasing the full version.