Home > Spotify Music Tips > Extract MP3 Files From Spotify
How to Extract MP3 Files From Spotify
While Spotify grants Premium subscribers the ability to download music for offline streaming, it unfortunately lacks an option to save Spotify music as .mp3 files. Consequently, if you find yourself in need of exporting Spotify music in MP3 format, you'll have to turn to a well-designed Spotify to MP3 extractor.
In this article, we will introduce you to a relatively new tool called NoteCable Spotie Music Converter and guide you through the process of extracting MP3 files from Spotify step by step.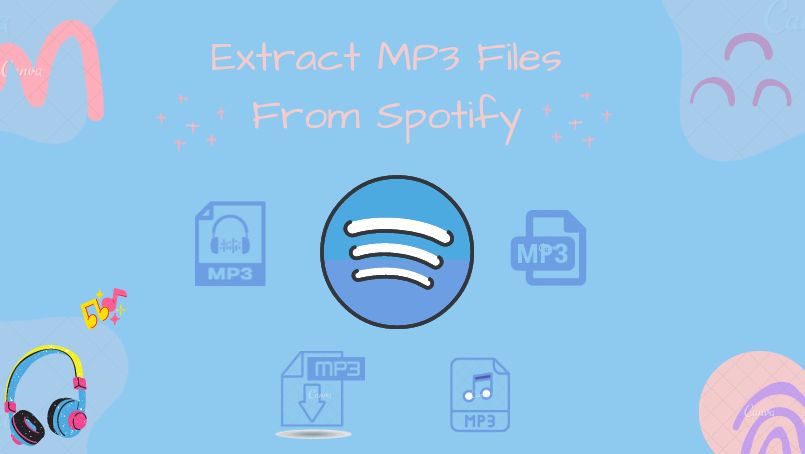 Part 1. Tool - NoteCable Spotify Music Converter
NoteCable Spotify Music Converter is a specialized tool designed to download Spotify tracks, playlists, entire albums, and podcasts directly to your local computer. As a powerful music downloading and converting tool for both free and premium Spotify users, it enables you to effortlessly extract MP3 files from Spotify songs. Moreover, it offers a wide range of output formats, including AAC, FLAC, WAV, AIFF, and ALAC, allowing you to choose the format that best suits your needs.
One of the standout features of NoteCable Spotify Music Converter is its ability to preserve the original audio quality and metadata during the ripping process. This ensures that you won't lose any vital information about your favorite songs, such as the song title, artist name, or album artwork. Additionally, the software supports batch ripping and boasts a remarkable 10X faster speed, ultimately saving you a significant amount of time.
Once you have successfully extracted your Spotify songs in MP3 format, you'll have the freedom to enjoy your music on various devices including mobile phones, MP3 players, DJ software, cars, and any other compatible devices that support audio playback.
NoteCable Spotify Music Converter is compatible with Windows and macOS. Depending on your operating system, you can download the free trial version from the link above, and install it on your computer. Then follow the instructions below to learn how to export music from Spotify and save it as MP3 audio format for listening on any device or player.
Step 1Choose Conversion Mode
Launch the NoteCable Spotie Music Converter on your computer. And then you can choose App Mode or Webplayer Mode as your conversion mode.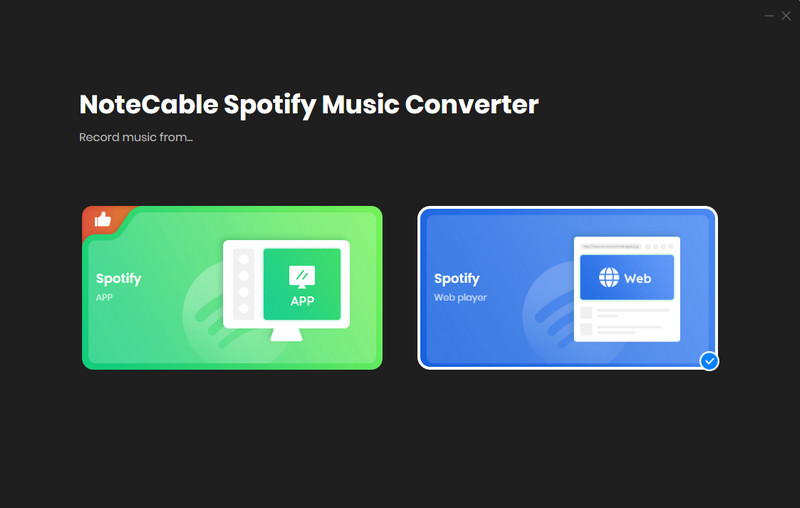 Step 2Sign into Your Spotify Music Account
Select Webplayer Mode, and log in to your Spotify account on the web player.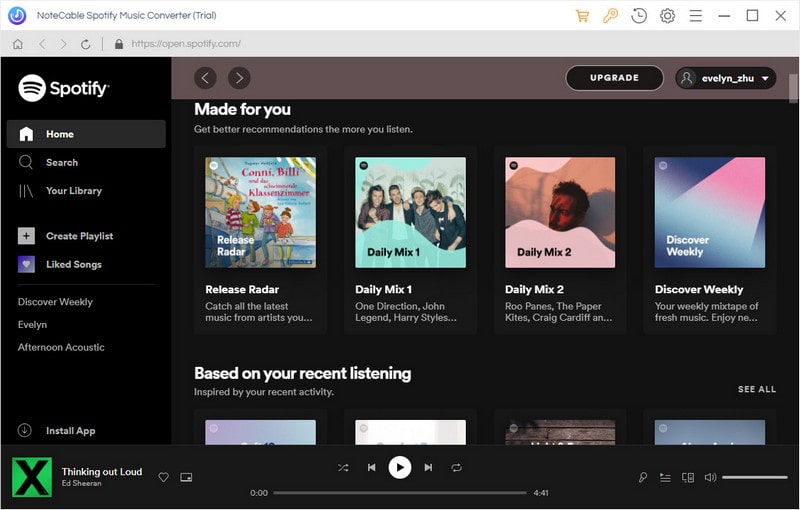 Step 3 Choose MP3 Format and Output Settings
Please click the Settings section on the left panel of NoteCable main interface. Here NoteCable allows you to choose MP3 format, audio quality and sample rate. In addition, you can also select an output folder on your computer to store the downloaded Spotify music, so that you can access them freely.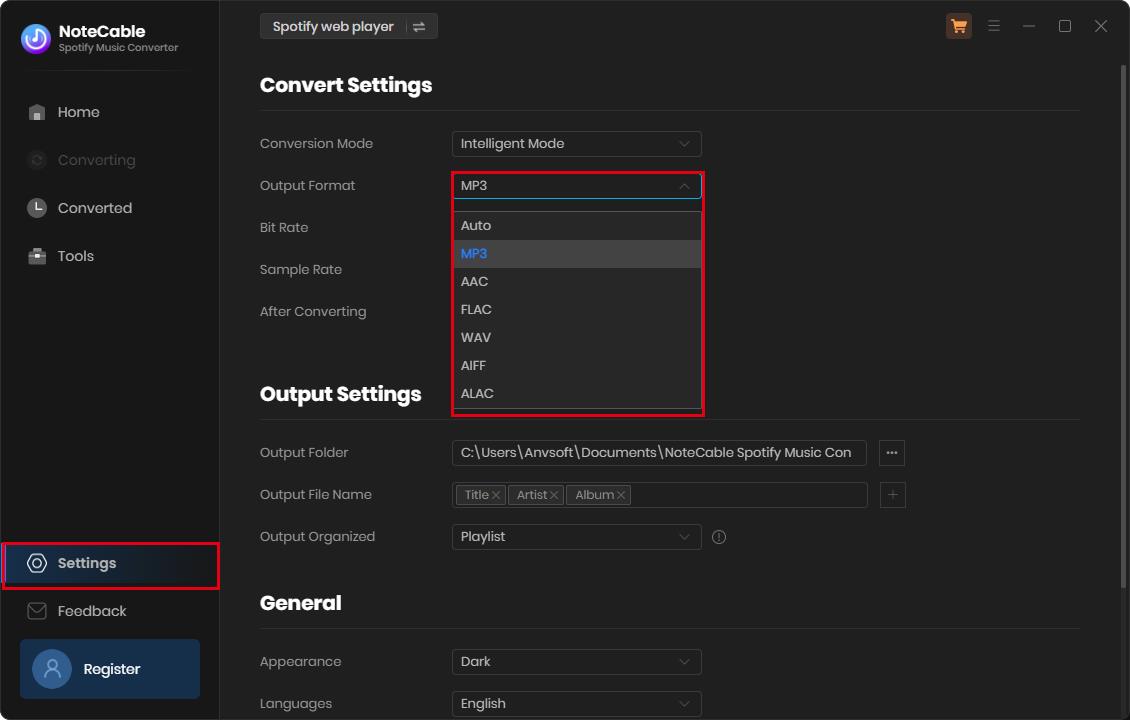 If you'd like to organize your music library better, you can save the output audio files into the folders sorted out by Artist, Album, Artist/Album, or Album/Artist.
If you are used to putting all downloaded songs in one folder, you can set up the option to None on the output organized column.
Step 4 Add Music and Playlists to Convert
Now you can enter any album or playlist, and click Click to add

button. Then NoteCable will load all the songs in this playlist. Selectively choose the songs you'd like to download. Next click Convert Now to start downloading.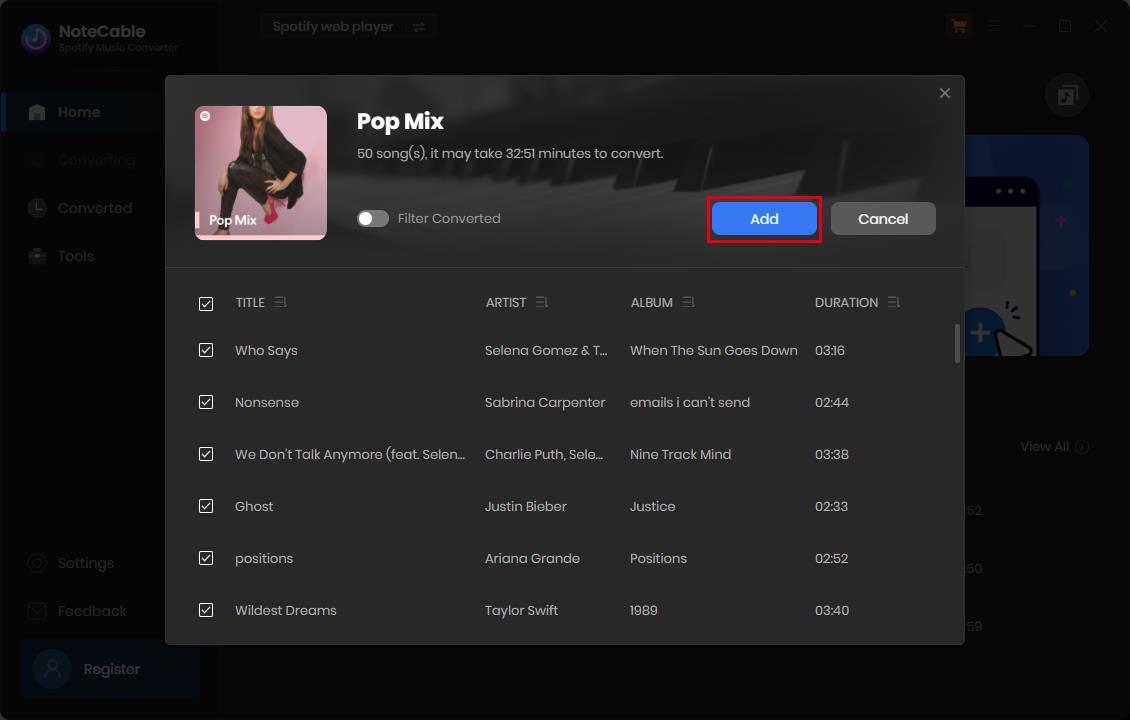 How to extract multiple playlists? If you need to convert songs from multiple playlists in a single go, simply click the Add More button and add more songs from various playlists to the conversion list.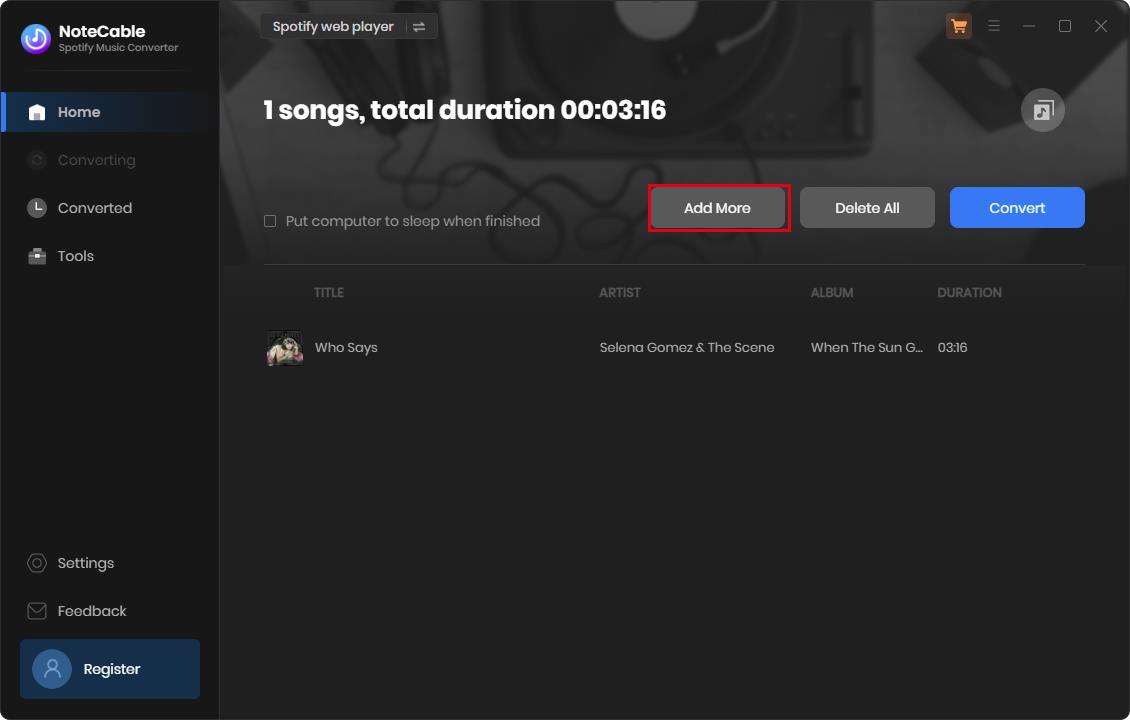 Step 5Check the Extracted Songs
NoteCable will download your songs at a 10x faster speed. After the conversion is completed, click the Converted part, and you will find downloaded songs listed here. Tap the folder icon behind the Duration, you can locate them on local folder of your computer.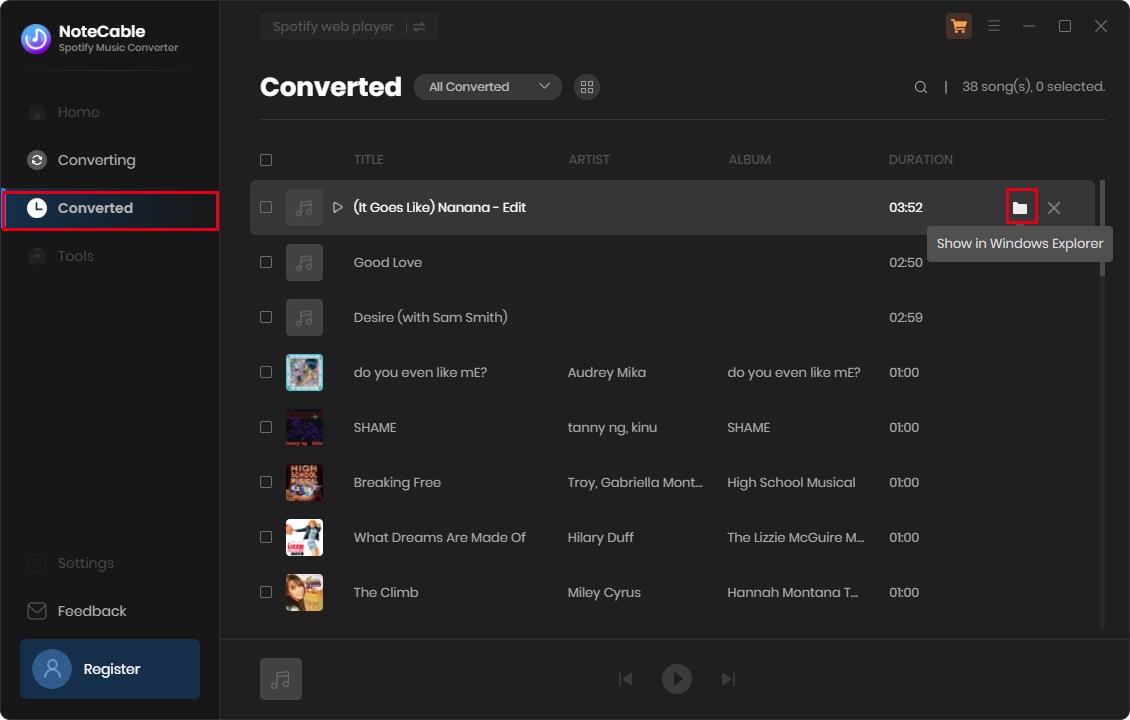 Now you have successfully extracted MP3 songs from Spotify with simple steps. You are free to listen to the Spotify tracks on your mobile devices or MP3 players offline.
Considering the needs of smartphone users, we will introduce two useful extractors and list a step-by-step guide for your reference. The tools can help you to extract MP3 files from Spotify on your iPhone and Android phones. But there is a drawback you should know. That is the sound quality cannot be guaranteed, and you maybe save Spotify music with poor audio.
Extract MP3 from Spotify on iPhone
Telegram refers to freeware empowering all kinds of free bots with different functions. It can help users to complete various tasks, including extracting music from Spotify. So you can download music from Spotify to MP3 on your iPhone with a Telegram bot. This brief guide will show you how.

Step 1. Go to the Spotify app and copy the link of the playlist you desire to download.
Step 2. Now, open Telegram and search for Spotify bot inside it.
Step 3. Select the "Start" icon and paste the copied Spotify playlist link.
Step 4. Tap the "Send" icon, and then hit the "Download" button. In this way, Spotify songs will be saved in MP3 format on your iPhone.
Extract MP3 Songs from Spotify on Android
Fildo is a streaming music app with built-in downloading features, which allows you to rip the music from Spotify tracks on your Android devices by importing the Spotify playlists to Fildo. All the music will be ripped as an MP3 format. Let's see how it works on ripping Spotify on your Android.
Step 1. Install Fildo on Your Android Devices.
Step 2. Go to the "More" tab on the bottom and choose "IMPORT SPOTIFY".
Step 3. Next, log in to your own Spotify account. When your Spotify account is successfully login, all the Spotify playlists from your library will appear.
Step 4. Choose the playlist and then hit the "Three-dot" Botton and tap the "Download" button to rip Spotify songs on your Android devices.
Tips: Through these tools, it becomes easier to rip songs from Spotify on your phones. But you should know there are some disadvantages. For example, Fildo requires to rip songs from Spotify by taping them one by one. Besides, there is a danger of privacy leakage and it may be recognized as an Android app you should not install. Moreover, the efficiency of downloading Spotify songs is slower than using a professional extractor. So for phone users, the best way to extract MP3 files from Spotify is to rip them on your computer and transfer them to other devices.
Conclusion
In this article, you have learned how to use NoteCable to download and convert Spotify songs, playlists, albums, or podcasts to MP3 files on your Windows or Mac computer. Moreover, we have introduced some other alternative tools that can help you extract MP3 files from Spotify on your iPhone or Android device. With these tools, you can enjoy your favorite Spotify music offline on any device or player without limitations. We hope this article has been helpful for you. Thank you for reading.
---