Home > Spotify Music Tips > Spotify Premium Hulu
FAQs about Spotify Premium Hulu
"What is Spotify Hulu? What kind of discounts does Spotify Hulu offer? How can I get this deal if I'm a student?"
Many users may have the above questions when they see "Spotify Hulu" on the browser for the first time.
Hulu is a popular streaming service that offers a variety of TV shows, movies, and original content. It allows subscribers to watch their favorite shows and movies on-demand, as well as access live TV channels. Hulu offers a variety of subscription plans, including Hulu (With Ads) ($7.99/Mo) and Hulu (No Ads) ($17.99/Mo).
If you're a Spotify Premium Student Plan subscriber, you have the opportunity to take advantage of a discount on the Spotify Hullu (With Ads) bundle, a popular service from Spotify in partnership with Hulu.So today's article will give you a comprehensive introduction to Spotify Hulu bundle. If you're looking for answers, keep reading!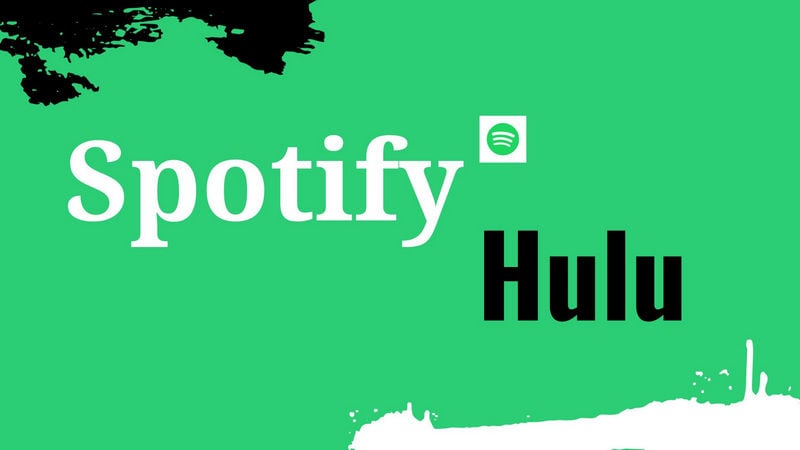 Spotify Premium Hulu is a bundled service available only to eligible students who subscribe to the Spotify Premium Student Plan, offering both Spotify Premium and Hulu streaming services for a monthly fee of $5.99. That said, with this service, subscribers can enjoy premium music streaming on Spotify and access Hulu (With Ads)'s extensive library of TV shows, movies, and original content.
The Spotify Premium Hulu bundle is priced at $5.99 per month for eligible students. This plan offers access to Spotify Premium, Hulu's ad-supported plan, and Showtime.
Note: Pricing and availability may vary based on region and eligibility.
① Students attending a Title IV accredited college or university in the United States have their enrollment status verified through a third-party service called SheerID.
② Be 18 years or older.
③ Having a Spotify Premium Account or valid Spotify Premium for Students account.
Once activated, the agreement will last four years. Every year, Spotify requires members to re-verify their registration status using SheerID. They will send you an email in due course. Be sure to verify or you will be charged the normal $10.99 fee.
1. If you already have a Spotify Premium account or are considering buying one, you can also get Hulu's ad-supported plan for the same price, which means premium subscribers get the $7.99-per-month Hulu plan for free.
2. If you have Spotify Premium already, just go to the Services page and click "Activate Hulu". If you don't subscribe to either, get Spotify Premium for $10.99, which comes with free Hulu.
3. If you already have an existing Hulu account and a Spotify Premium account respectively. To merge your existing Hulu and Spotify Premium accounts, simply log into your Spotify account and navigate to the Accounts page. From there, click "Activate Hulu" and follow the prompts to switch to the "Student Premium + Hulu" plan. This process will eliminate any charges for the Hulu app.
Step 1: Make sure you have an existing Spotify Premium account and a valid student email address.
Step 2: Visit the Spotify website and log into your Spotify Premium account.
Step 3: Go to your account page on Spotify and find the "Premium for Students" section.
Step 4: Click on the "Activate Hulu" option provided.
Step 5: You will be redirected to the Hulu website where you will need to verify your student status.
Step 6: Follow the instructions on the Hulu website to complete the verification process.
Step 7: Once verified, your Spotify Premium account will be upgraded to include Hulu at no additional cost.
Step 8: Download the Hulu app and log in using your Spotify account credentials to access Hulu content.
"Unfortunately, we couldn't confirm that you're a student. Please check your details and try again."
When you want to enjoy the benefits of Spotify Premium Student Plan, the above error always occurs. The specific reasons are summarized as follows:
Not Eligible: To take advantage of the Hulu with Spotify Premium student offer, make sure you have a valid student email address and are currently enrolled at an accredited institution or university. Also, make sure you haven't subscribed to another Spotify Premium plan or used this particular offer before.
Invalid or Outdated Student Identification: In order to confirm their enrollment status, students may be required to provide Spotify with a school ID or proof of attendance. Spotify's verification process may only check that the student credentials provided are current and accurate.
Problems with Payments: Confirm that your payment method is valid and you have sufficient funds. Alternatively, try a new payment method or contact your bank to resolve any payment issues.
Account Functionality Issues If you're having trouble with your Spotify account, try logging out and logging back in. If the problem persists, consider using a different browser or device to access your account.
Cancel subscription after one year If your Spotify Premium Student account subscription is canceled after one year, you can renew your Spotify Premium discount to continue enjoying unlimited music.
Cancel subscription after one year If your Spotify Premium Student account subscription is canceled after one year, you can renew your Spotify Premium discount to continue enjoying unlimited music.
If you are having trouble activating Hulu with Spotify Premium as a student, here are a few tricks you can try to resolve the issue:
-Check Your Eligibility:
To qualify for the student discount, you need to meet certain requirements. This includes currently attending an accredited college or university and being able to provide proof of your enrollment. When you sign up for Hulu with your Spotify Premium student discount, you'll be directed to the SheerID website. On this website, you will need to provide some information such as your name, date of birth and the educational institution you attend to verify your eligibility for the discount.
-Check Your Payment Method:
Ensure the payment method you use for your Spotify Premium subscription is both valid and current. If your payment method is expired or invalid, it could potentially hinder your access to the Hulu with Spotify Premium offer.
-Contact Customer Support:
If you've confirmed your eligibility and made sure your payment method is valid, but still can't activate Hulu with Spotify Premium, you can contact customer support for help. Spotify offers customer support via its website or app that you can contact to troubleshoot issues and find solutions.
-Try Again Later:
Sometimes, there may be temporary issues with the process of activating Hulu with Spotify Premium. In this case, it is recommended to try activation again later to check if the problem has been resolved.
Generally speaking, if you as a student are having trouble activating Hulu with Spotify Premium, it is recommended that you contact customer support for help. They will be able to guide you through your issues and provide solutions.
Are you a user looking for a way to keep your favorite music forever without Spotify Premium? Spotify provides users with a platform to enjoy music, but it never allows us to truly own Premium music. After the Spotify Premium account expires, Spotify will not take back the music we have downloaded. Additionally, Spotify downloads can only be played on the Spotify app and cannot be exported for use on other devices. In this section, we will delve into some effective strategies to keep your Spotify Premium music forever and no longer rely on Spotify Premium.
To achieve this goal, we will use a simple and secure tool - NoteCable Spotify Music Converter. NoteCable Spotify Music Converter is a software tool designed to help users download and convert music from Spotify. It allows users to download singles, playlists, albums, and podcasts from Spotify and save them to their local computer. NoteCable offers converter versions for Windows and Mac operating systems, with a simple user interface that eliminates the need to install the Spotify app. The converter supports multiple audio formats such as MP3, AAC, WAV, FLAC, AIFF, and ALAC. It is fully compatible with the latest version of Spotify and is available to Spotify Free or Premium users.
The Tool You Need:
Step 1Install and Run the NoteCable Spotify Music Converter and Choose Conversion Mode
Launch the NoteCable Spotify Music Converter on your computer. And then you can choose App Mode or Webplayer Mode as your conversion mode.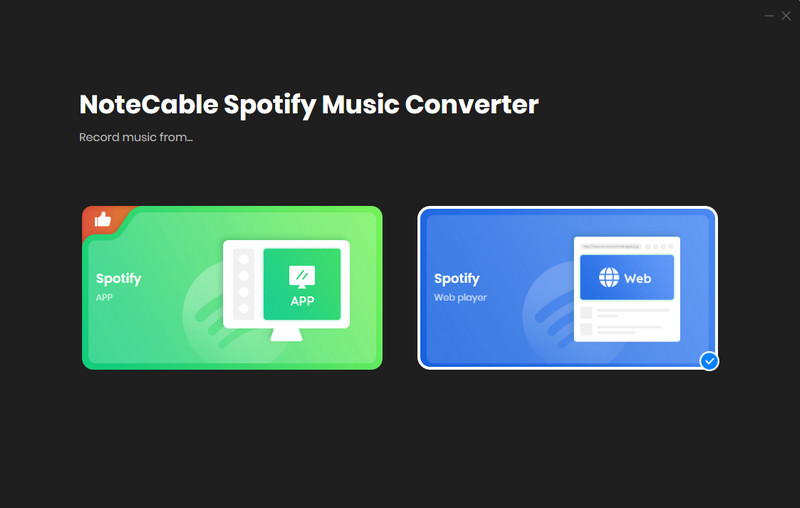 Step 2 Sign into Your Spotify Music Account
After choosing Webplayer Mode, you can log in to your Spotify account to access your Spotify playlists.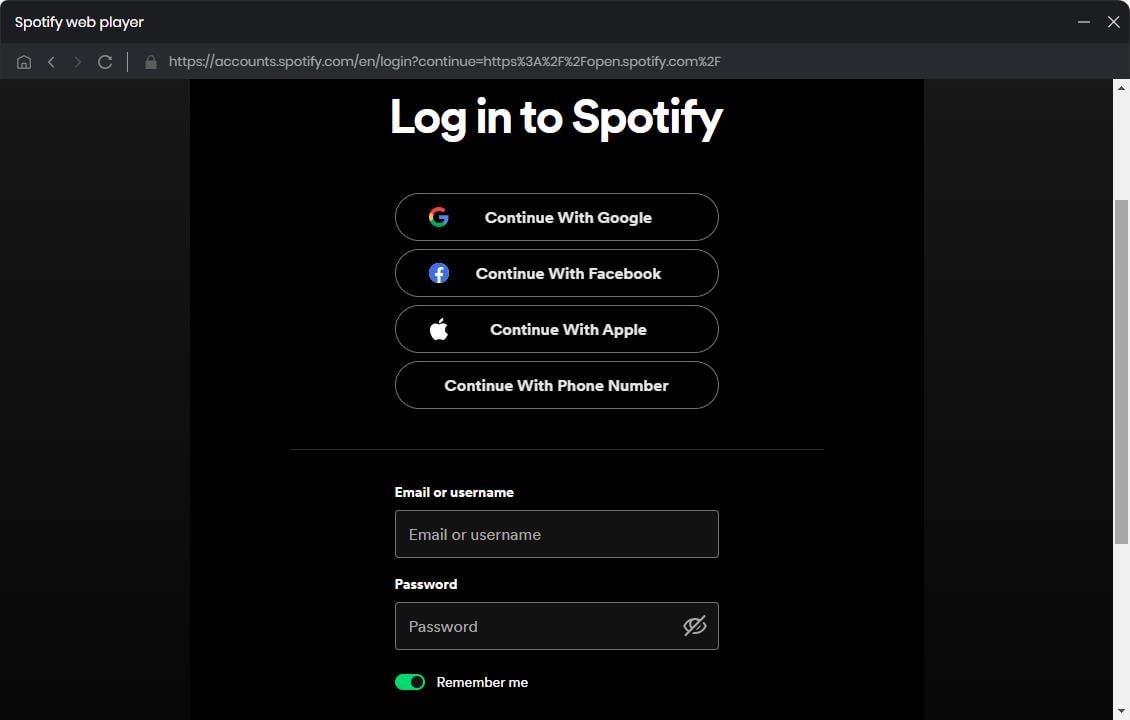 Step 3 Set Output Settings
Please go to click the Settings section on the left panel. Here you can set the output format, bit rate and sample rate of Spotify music. In addition, you could choose an output folder on your computer to store the downloaded Spotify music.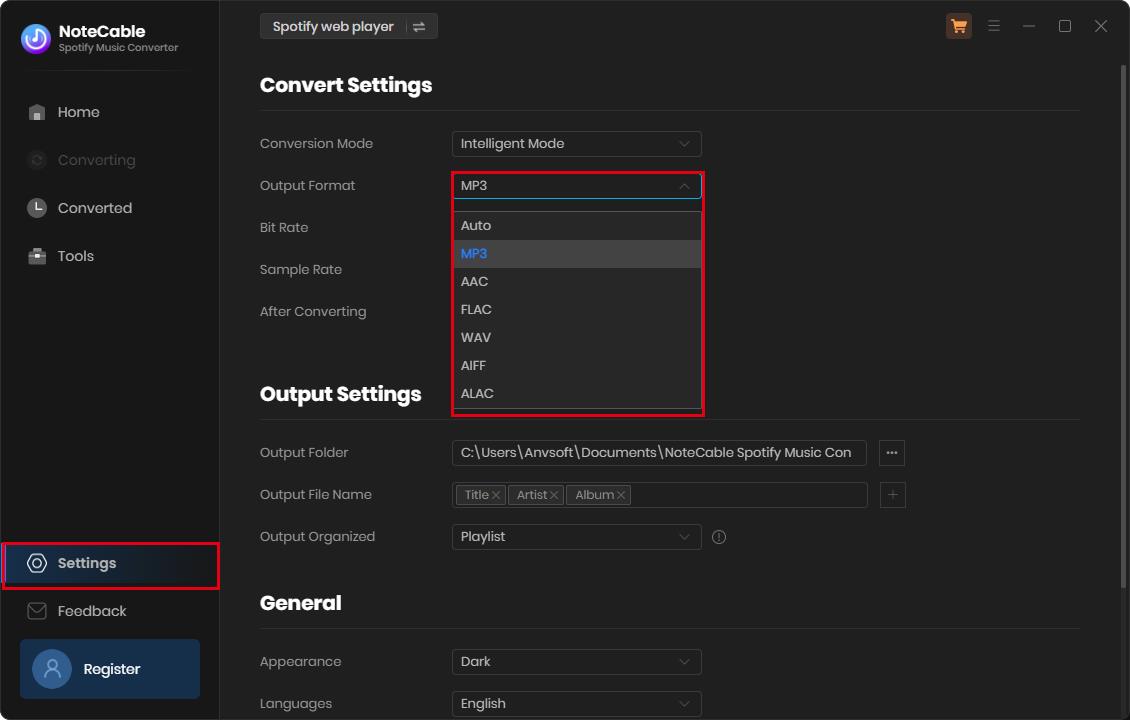 Step 4 Select Music to Convert
Now Choose a playlist from Spotify Premium you want to download. Next, click Click to add

button. Then NoteCable will recognize and load all the songs in this playlist. Tick the songs you'd like to download. Next, click Convert to start downloading.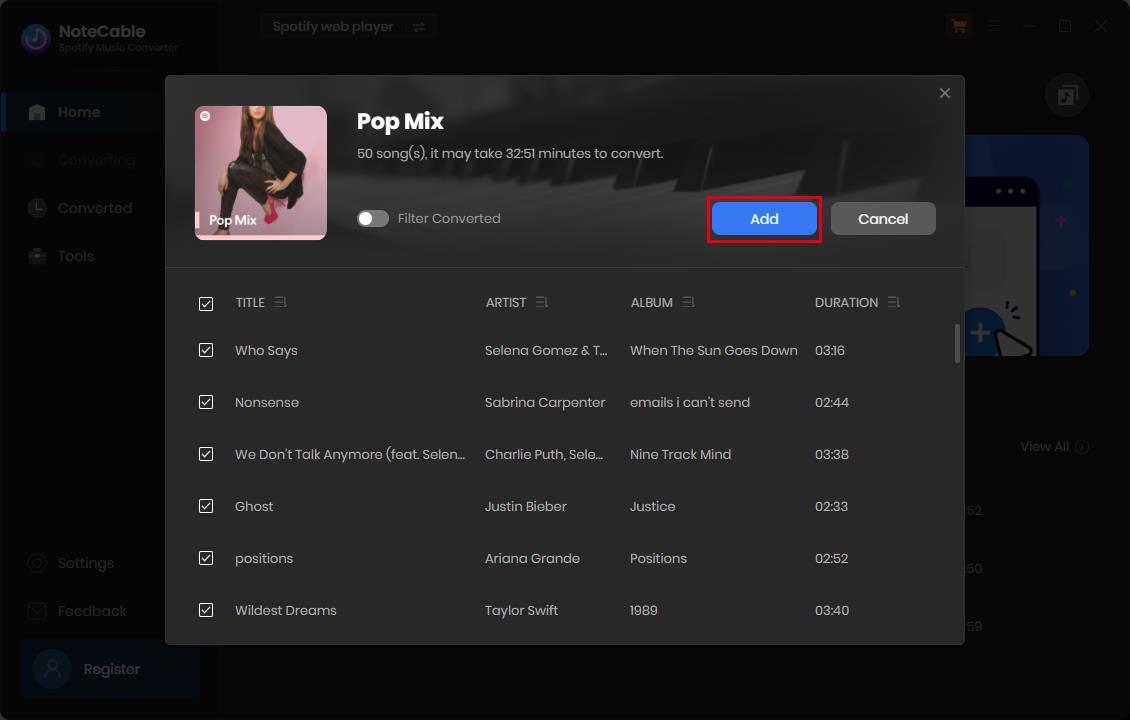 Step 5Check and Locate the Downloaded Songs
Once downloaded, they will be stored in the local storage, in the destination folder. After the conversion is completed, click the Converted part, and you will find downloaded songs listed here. Click the folder icon behind the Duration, you can reach out to the local folder of your computer and you can also change the location of the songs at the same time.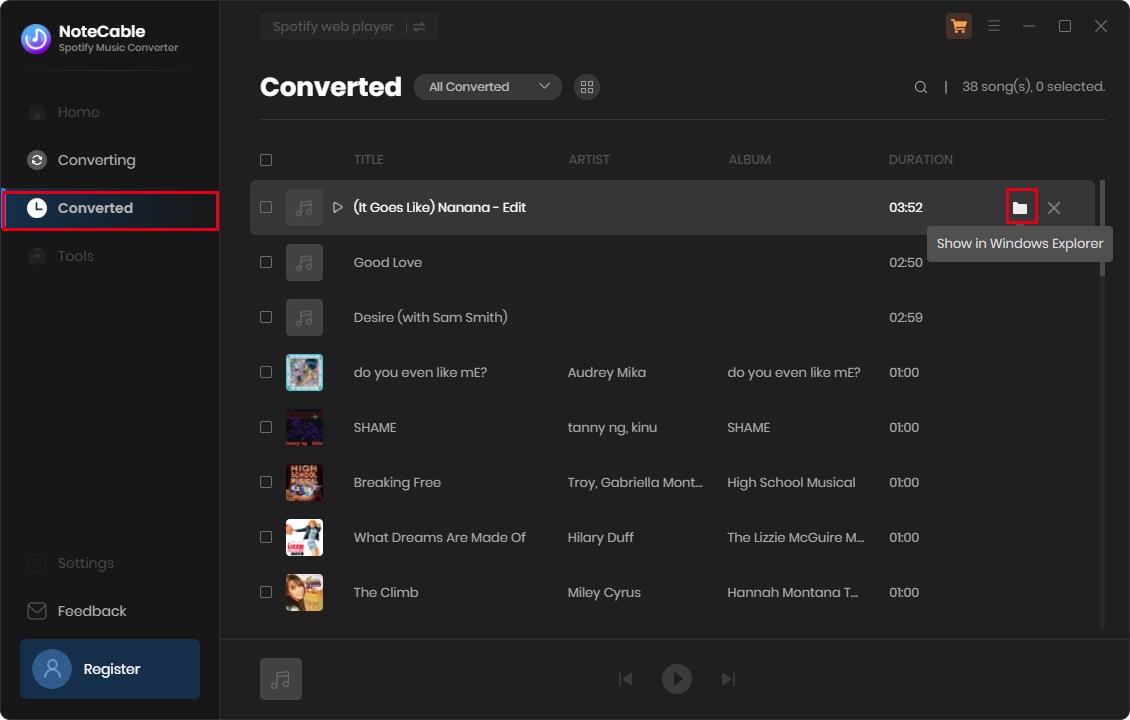 Since your Spotify songs have been downloaded as local music files on your computer, now you can enjoy the Spotify Premium songs for free.
Note: The trial version of NoteCable Spotify Music Converter enables us to convert the first minute of each audio file for sample testing, you can unlock the time limitation by purchasing the full version.
Summary
In addition to bundled plans, there are many ways to enjoy Spotify Premium music for free forever on the Internet. You can choose the method of saving music according to your personal needs. It is generally believed that the most effective and simplest way is to save Spotify Premium music locally so that you have the right to listen to it for life, without being restricted by complicated verification procedures and strict time requirements. We hope this article was helpful to you and wish you a happy musical journey!
---